---
Estela Carlotto Refers to Cristina
2016-08-16 09:12:05 / web@radiorebelde.icrt.cu / Translated by: JC Caballero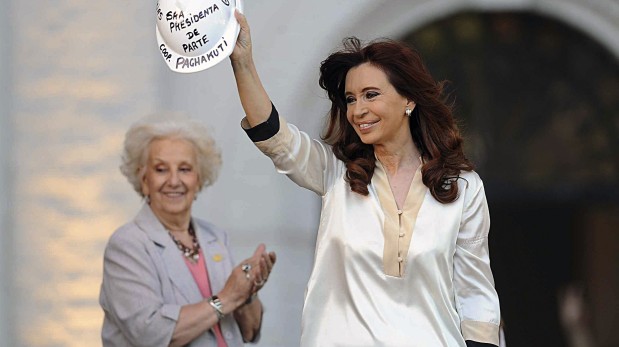 Estela Carlotto, who is the president of the Argentinian Abuelas de la Plaza de Mayo square, stated:

"The president Cristina Fernandez is being persecuted offensively and ferociously. They have even forced the mausoleum that contains the remains of Nestor Kirchner, her husband, and all of that was done by trying hard to find a money that they have had before being a government and when they knew how to make it which was precisely working."

In an interview published by El Comercio de Peru newspaper, Estela Carlotto criticized her nation´s current government when she said: "the few that could be good has a low quality in comparison with the economic and cultural damage that is being experienced in Argentina given the fact that we have strikes and protests here due to the increase of the consumption. It has also being increased up to a 2.000 % the gas and water which are the three essential elements for a decent life.

More accusations

It is a fact that there have been lots of accusations against Cristina Fernandez. The first one due to an allegedly illicit enrichment and now a federal judge has ordered the reopening of a penal denunciation against her in which she is being accused of conspiring to divert the investigation about the attack against a Jewish institution that killed 85 people dead in 1994.

The judge Claudio Bonadio is reopening that denunciation by Alberto Nisman who was a federal district attorney who died in weird circumstances last year.

Cristina Fernández has considered as absurd the original denunciation by Nisman and she has criticized the juror Claudio Bonadio by doubting about his impartiality in other cases in which he has tried to involve her.

Cristina Fernandez and the Mothers

Cristina Fernandez de Kirchner arrived in the venue of the Madres de la Plaza de Mayo Association to gather with her president Hebe de Bonafini, recently.

The meeting took place before the related march number two thousand that was carried out by the Madres of the Plaza de Mayo (Mothers of the May square, literally) by claiming the historical memory, the truth and justice for the victims of the last military dictatorship in that nation.

As it is usual, the traditional march of that association has been weekly carried out since 1977, around the white pyramid that is located in front of the Casa Rosada building in Buenos Aires.

The aforementioned march also took place in the middle of accusations about Hebe de Bonafini who has refused to state before a judge who is investigating an allegedly fraud against the state through the projects of social houses which was organized by that Association.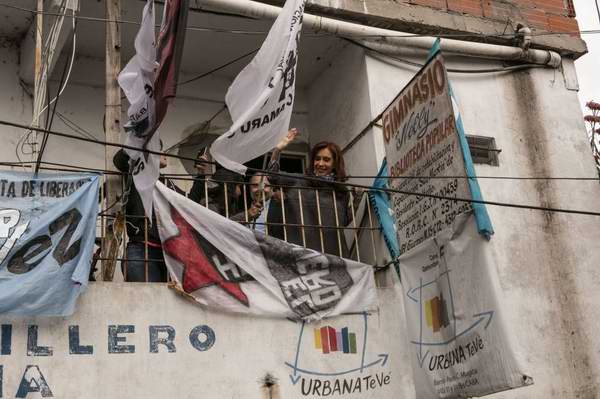 "It is the history that never stops and our worn-out feet that never take a break; they are our thirty thousand children who left their blood and love for the motherland which is precisely all of us." Hebe de Bonafini said through an audiovisual that was broadcast through internet while calling to that march.

In the last week, Cristina Fernandez defended his term before the government, especially in the economic sphere and stated that she should have been given a Nobel Prize in economy instead of a judicial persecution.

Cristina Fernández de Kirchner criticized the current government of Mauricio Macri due to his overcharged rate and she stated that there are many more poor people on the street, at present.

In addition, she highlighted that the Kichner-political tendency governments (2003-2015) achieved economic and social results such as the reduction of poverty and unemployment.

"We were demanded things that were not demanded to anyone before. We received a nation with the highest default in history and two digits of unemployment, and we delivered even a proper nation with a few problems, of course. Is there anyone who could live twelve years and a half of mere fantasy? She pointed out.

By Ana Teresa Badía

Radio Rebelde. 23 # 258 % L y M. Vedado. Plaza de la Revolucion Havana City, Cuba CP. 10400. Principal Editor: Pablo Rafael Fuentes de la Torre. Webmaster: Mabel Peña Styo. Journalist: Liannis Mateu Francés - Laura Barrera Jerez.Photojournalist: Sergei Montalvo Arostegui. Comunity Manager: Alejandro Rojas. Assistant: Adriana Glez Bravo. Developed by Radio Rebelde Web Team
General Director: Frank Aguiar Ponce.
Phone numbers: (53) 7 838-4365 al 68 (Cabin) (53) 7 839-2524 (Public Relations).
© Copyright Radio Rebelde, 2015