---
More Protests in Argentina
2017-05-23 06:33:12 / web@radiorebelde.icrt.cu / Translated by: JC Caballero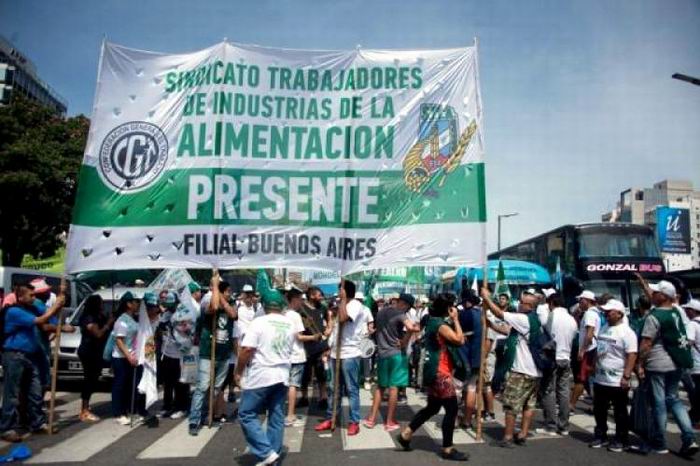 Food Industry Workers Union (STIA) marches this day towards the venue of the business chamber in Buenos Aires city to express its desires for salary improvements.

"The workers from the Food industry say stop! We are not going to resign to improver working. Our claim is fair and expresses the urgency that we are leaving at the margin of this economic model." the STIA reported in a communiqué.

The unions repudiate the increase of the 17 % through three fees (six in May, six in November and five in February) which are decreed by Mauricio Marci's government. Its demand is the 30% to compensate the loss of the purchasing power of the salary before the double-digit inflation that is kept in Argentina.

"The workers are victims of an economic politics that is based on a transference of economic resources from the poorest people to the richest sectors of the society." They stated.


The Declared Food Emergency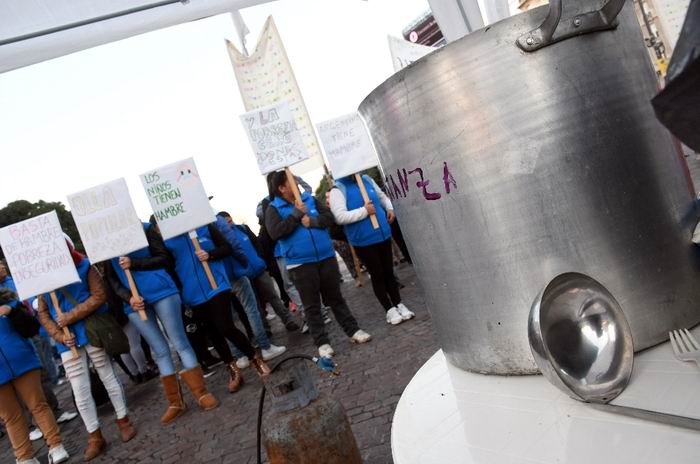 Hundreds of Argentines from the social Barrios de Pie platform protested in Buenos Aires city while demanding the urgent food declaration at a national level. The demonstrators used big saucepans. Their main demand is about the children´s malnutrition who attend to the school dining rooms.

According to the Télam agency, Daniel Menéndez, who is the general secretary of the local Barrios de Pie Movement, there is an increase poverty trend and many people fired and in the current Argentina, including the 40 % of children with a low body weight who attend to public dining rooms and experiences malnutrition.

Daniel Menéndez pointed out that they are working on an emergency food program which will be presented the nest week at the Argentinian Congress.

Prensa Latina news agency confirms that the government must check its economic politics which causes the milk consumption reaches the lowest levels since the crisis in 2011. This affects the poorest sectors.

The protest has got into the Twitter social network, along with the #Barriosdepie poster that has already become a trend.

It is estimated that the increase of the infantile and youth poverty is linked to the economic measures and the neoliberal reductions carried out by the government of Macri.


It is highlighted that there are 5.987.782 Argentinian children and teenagers, aged 18, who live in poverty as it was published by the related research carried out by the local Public Policies Implementation for the Equity and Growing (Cippec) on base on an information shown by the National Statistic and Census institute (Indec) about the three-month period of the year 2016.

The related survey carried out by Indec was reflecting that there were 13.553.940 people who were poor of the total population (31.09 %). Moreover, there were 5.987.782 people who were children and teenagers, aged 18, and that is to say that the total of poor people were minors.

That rate was much higher than the related parameter between the population, under 18, and the total population which is lower to the 30%. This is a phenomenon named as infant poverty, according to the study carried out by Indec.

The poverty reached the 30.3% in Argentina by the end of 2016 and there is a 6.1 % of indigent Argentinian and that is to say the 4.5 % of the local homes, according to the related Argentinian study carried out by the National Statistic and Census that is directed by Jorge Todesca and highlighted before the official statistic center.

On this context, the 44.2% of the Argentinians do not like the actions carried out by the President Mauricio Macri after over a year already. This is shown by the last study carried out by the Argentinian Management & Fit survey agency which shows the loss of four related points in respect of the support to his term.

In the last two months, the acceptance about Marci´s government dropped 4 points. That is a negative number if it was taken into account that it has decreased two points only, according to that survey agency.

The Argentinians´ opinions, while they are analyzing their government, are linked to the negative economic perspectives about their nation, taking into account that the 43.3% of them think that the economic situation of Argentina would be worse in the upcoming months and there is only a 27% of them who think that situation would improve.

By Ana Teresa Badía

Radio Rebelde. 23 # 258 % L y M. Vedado. Plaza de la Revolucion Havana City, Cuba CP. 10400. Principal Editor: Pablo Rafael Fuentes de la Torre. Webmaster: Mabel Peña Styo. Journalist: Liannis Mateu Francés - Laura Barrera Jerez.Photojournalist: Sergei Montalvo Arostegui. Comunity Manager: Alejandro Rojas. Assistant: Adriana Glez Bravo. Developed by Radio Rebelde Web Team
General Director: Frank Aguiar Ponce.
Phone numbers: (53) 7 838-4365 al 68 (Cabin) (53) 7 839-2524 (Public Relations).
© Copyright Radio Rebelde, 2015