---
The Withdrawal of the United States from G7 environment Summit
2017-06-13 07:00:15 / web@radiorebelde.icrt.cu / Translated by: JC Caballero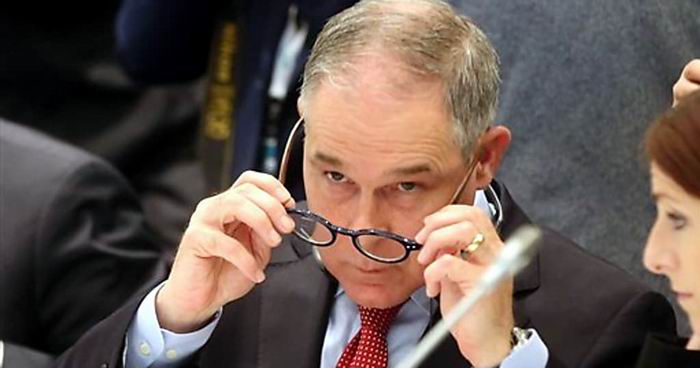 The director of the Environmental Protection agency (EPA) from the Unites States, Scott Pruitt, returned to her nation and he is not going to participate in the final sessions or the Press conference of the G7 Environment Congress that will be concluding in the Italian Bologna city.

All indicates that there will not be declarations by the Republican Donald Trump after the announcement by the United States that it would stop taking part of the environmental Paris Agreement in which the nations which signed it agreed to reduce their greenhouse gas emissions.

Scott Pruitt has limited himself to inform, through his Twitter social network, about a meeting held with the secretary of the Environment office from the United Kingdom, Therese Coffey, and her meetings with the representatives of the struggle against the food waste.

In those meetings at the Savoia Regency Hotel, which is distant from the historical center of that city due to safety purposes, the also ministers of the environment from Germany, Barbara Hendricks from Japan, Koichi Yamamoto from France, Nicolas Hulot from Canada and Catherine McKenna from Canada are also participating.

The G7 environmental agency had planned up to six themes of debate: Ocean pollution, ecological finance, circular economics and effectiveness of the economic resources, some related aids to Africa and the role of the developed banks, environmental taxes and the management of the toxic waste.

The officials responsible for the environment of the rich nations of the aforementioned group gathered on Sunday in Italy in the middle of discrepancies between the United States and the rest of the members of that block in terms of facing the climate change.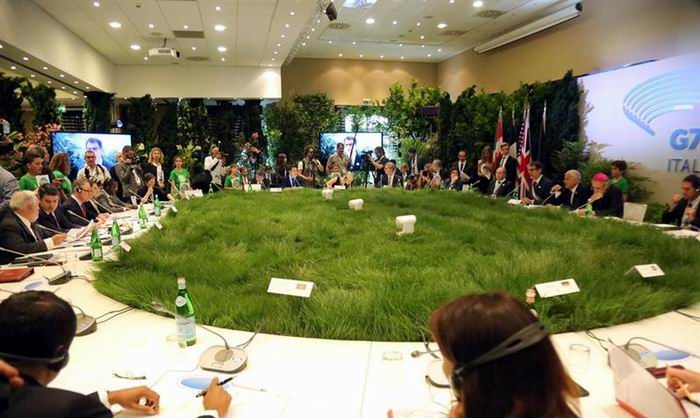 Before Scott Pruitt left, his colleagues from Great Britain, Germany, Canada, Japan and Italy showed him their disappointment due to the recent decision taken by the US. Head of state, Donald Trump, about withdraw the United States from the Agreement of Paris in 2015.

During that Summit event of national governors, which took place last month in Sicilia city, the other six nation agreed to make effective the Paris Agreement about the climate change.

Gian Luca Galletti, who is the minister of environment leading the meeting in Bologna city, said that in spite of the discrepancies, the dialogue had to continue to try solving other environmental issues like the ocean pollution.

Germany is among the more persistent nations about keeping the international campaign to face the global warming. It will be the venue of the annual summit on the weather which is scheduled to be carried out in November this year.

The German minister of environment, Barbara Hendricks, gathered with the governor of California, Jerry Brown, on Friday to show that his nation is willing to collaborate with US. States if Donald Trump refuses to participate in the actions contained in the Paris Agreement.

California is member of what is known as the Under 2 Coalition which are a group of 175 states and cities that have the purposes to keep the global warming under the 2 grades centigrade that is a limit of scientists who state that is necessary to prevent a catastrophic climate change.

In a direct criticism to the government of Donald Trump, the German ministry represented by Hendricks published on internet a verification of facts about the speech in which the U.S. head of state announced the withdrawal of the United States from the Paris Agreement, while saying that it was full of allegedly fallacious arguments.

The environmental ministers of the G-7 group has planned to make a final announcement. It is named G7 or Group of the seven a group of seven industrialized nations of the world of which their political, economic and military influence is really huge worldwide. It is a group that includes Germany, Canada, the United States, France, Italy, Japan and the United Kingdom, respectively.

By Ana Teresa Badía

Radio Rebelde. 23 # 258 % L y M. Vedado. Plaza de la Revolucion Havana City, Cuba CP. 10400. Principal Editor: Pablo Rafael Fuentes de la Torre. Webmaster: Mabel Peña Styo. Journalist: Liannis Mateu Francés - Laura Barrera Jerez.Photojournalist: Sergei Montalvo Arostegui. Comunity Manager: Alejandro Rojas. Assistant: Adriana Glez Bravo. Developed by Radio Rebelde Web Team
General Director: Frank Aguiar Ponce.
Phone numbers: (53) 7 838-4365 al 68 (Cabin) (53) 7 839-2524 (Public Relations).
© Copyright Radio Rebelde, 2015