---
Activists Call Solidarity Actions with the Five in Washington
2014.03.21 - 09:56:08 / web@radiorebelde.icrt.cu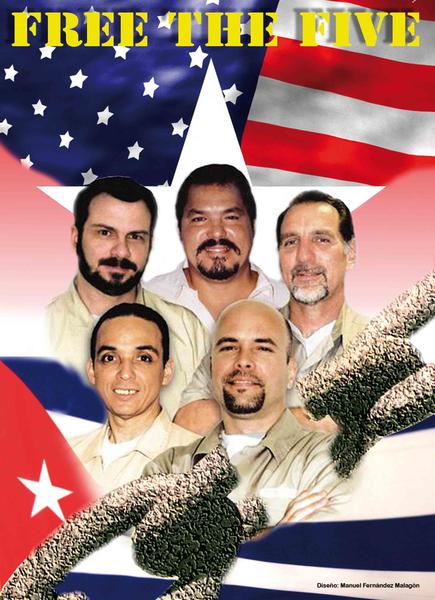 The International Committee for the Freedom of the Cuban anti-terrorist fighters held in the United States called a demonstration for June 4 to 11 in Washington D.C.

Lawyers, congress people, religious personalities, writers, unionists and activists will gather at the US capital city to demand the release of the three anti-terrorists, who has been held in US jails since 1998, according to a communiqué released by the Committee.

The Five Days for the Five action in Washington will include lectures, cultural activities and a peaceful demonstration in front of the White House to demand the release of Gerardo Hernández, Ramón Labañino and Antonio Guerrero, who are still imprisoned in US Federal penitentiaries.

Only two of the five Cubans –Rene Gonzalez and Fernando Gonzalez—returned to the island after they fully served their unfair sentences, the Committee recalled.

The demonstration will also demand freedom of Puerto Rican independence leaders incarcerated in the United States and other political prisoners, as well as the end of the US economic, commercial and financial blockade of Cuba. People from different parts of the world are joining their voices to demand President Barack Obama to change US policy towards Cuba.

According to the agenda of the June demonstrations, activists will visit the US Congress along with lawmakers from Latin American and European countries. Some personalities include renowned political analyst Noam Chomsky, actor Danny Glover, writer Angela Davis, poetess Alice Walker and Brazilian theologian Frei Betto.

(Agencia Cubana de Noticias)

Radio Rebelde. 23 # 258 % L y M. Vedado. Plaza de la Revolucion Havana City, Cuba CP. 10400. Principal Editor: Alejandro Rojas Espinosa. Webmaster: Mabel Peña Styo. Journalist: Liannis Mateu Francés - Yaicelín Palma TejasPhotojournalist: Sergei Montalvo Arostegui. Assistant: Adriana Glez Bravo. Developed by Radio Rebelde Web Team
General Director: Frank Aguiar Ponce.
Phone numbers: (53) 7 838-4365 al 68 (Cabin) (53) 7 839-2524 (Public Relations).
© Copyright Radio Rebelde, 2015