---
Activists in Vancouver Organize 100th Protest in Favor of The Five
2014.01.24 - 21:49:17 / web@radiorebelde.icrt.cu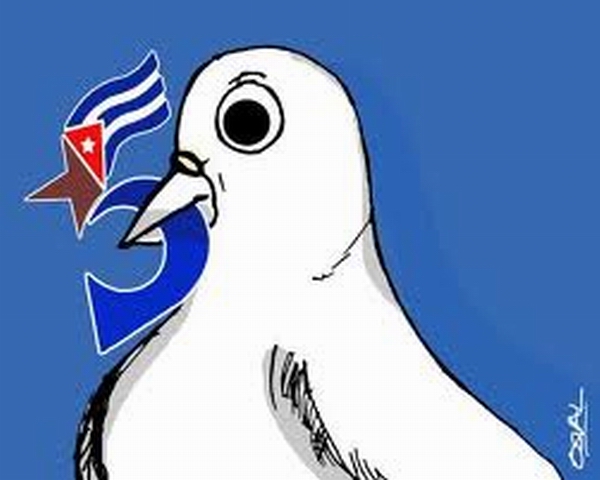 In Vancouver, Canada, solidarity activists of the battle for the release of the five Cuban antiterrorists are organizing their 100th protest in front of the U.S. consulate, an action that began eight years ago.

Like every March 5th, workers, students, retirees and persons who champion peace and justice will march by the U.S. consulate in Vancouver, joining the international call for the release of Gerardo Hernandez, Antonio Guerrero, Ramon Labañino and Fernando Gonzalez.
Tamara Hansen, coordinator of the Vancouver Committee for the Release of The Five, told ACN that activities will run until March 8 in Vancouver and British Columbia.

With the exception of Rene Gonzalez, who is already in Cuba alter serving his unfair sentence, Gerardo, Ramon, Antonio and Fernando suffer long sentences in U.S. jails.

(Agencia Cubana de Noticias)

Radio Rebelde. 23 # 258 % L y M. Vedado. Plaza de la Revolucion Havana City, Cuba CP. 10400. Principal Editor: Pablo Rafael Fuentes de la Torre. Webmaster: Mabel Peña Styo. Journalist: Liannis Mateu Francés - Laura Barrera Jerez.Photojournalist: Sergei Montalvo Arostegui. Comunity Manager: Alejandro Rojas. Assistant: Adriana Glez Bravo. Developed by Radio Rebelde Web Team
General Director: Frank Aguiar Ponce.
Phone numbers: (53) 7 838-4365 al 68 (Cabin) (53) 7 839-2524 (Public Relations).
© Copyright Radio Rebelde, 2015