---
Argentinean Climbers to Visit Cuba for The Five
2010.04.27 - 18:27:54 / web@radiorebelde.icrt.cu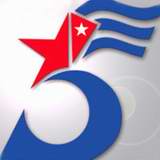 HAVANA, Cuba. - The Argentinean youngsters that climbed the Aconcagua (almost 7,000 meters above sea level) to demand the release of the five Cuban Heroes unfairly incarcerated in the United States have announced that they will travel to Cuba on Thursday.
During a press conference held at the Association of Education Workers in Neuquen, a province located in the south of the Patagonia, Alcides Bonavitta and Santiago Vega expressed their emotion for making this call for justice from the Turquino Peak, the highest point on the Caribbean island (1,974 meters above sea level).
The report on the statements of these two youngsters –published on www.principioesperanza.com- also point out that they will participate in the parade scheduled for May 1st, International Workers Day, in this capital, at the invitation of the Cuban Institute for Friendship with the Peoples.
Bonavitta and Vega expressed their pride for being able to support humanitarian causes like that of The Five, unfairly condemned for preventing terrorist actions against Cuba.
During their stay on the island, the youngsters who climbed in January the highest elevation in The Americas will meet with members of Brigade from the Aconcagua to the Turquino Peak and with relatives of The Five, and will ascend the highest Cuban elevation on May 4.

(Agencia Cubana de Noticias)

Radio Rebelde. 23 # 258 % L y M. Vedado. Plaza de la Revolucion Havana City, Cuba CP. 10400. Principal Editor: Pablo Rafael Fuentes de la Torre. Webmaster: Mabel Peña Styo. Journalist: Liannis Mateu Francés - Laura Barrera Jerez.Photojournalist: Sergei Montalvo Arostegui. Comunity Manager: Alejandro Rojas. Assistant: Adriana Glez Bravo. Developed by Radio Rebelde Web Team
General Director: Frank Aguiar Ponce.
Phone numbers: (53) 7 838-4365 al 68 (Cabin) (53) 7 839-2524 (Public Relations).
© Copyright Radio Rebelde, 2015