---
Cuban Anti-terrorist Thanks Parliamentary Support
2014.03.31 - 09:55:09 / web@radiorebelde.icrt.cu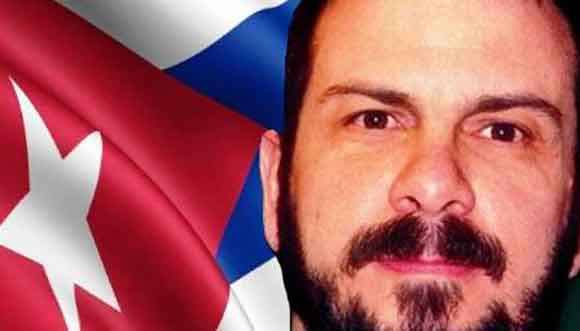 Fernando Gonzalez, one of the five Cuban anti-terrorist fighters, who were imprisoned in US jails in 1998, asked for actions to make the return of his three compatriots, still held in US prisons, a reality as soon as possible.

Speaking at the extraordinary session of the Cuban Parliament, which is debating a new foreign investment law, Gonzalez expressed, on behalf of his compatriots, his gratitude to the national and world solidarity movements for their support of the cause and return home.

Speaking to the audience, part of which is Rene Gonzalez, who was previously released after serving his unfair prison sentence, Fernando Gonzalez stressed the significance of the parliamentary forum and its role in the history of Cuba as it has been the scenario where the most important decisions and laws have been adopted.

Gonzalez expressed his thankfulness to Cuban Revolution leader Fidel Castro by describing him a symbol of the traditions and struggle of the Cuban people and the main source of energy that provided the resistance and optimism, which allowed him to withstand the rigors of his prison years.

He also acknowledged the support of the Cuban Friendship Institute, the International Committee for the Freedom of the Cuban Five and recalled that the Cuban Parliament has adopted proclamations, resolutions and calls related to the struggle for the release of the Cuban Five.

Gonzalez called to prevent that Antonio Guerrero and Ramon Labañino serve the full time of their unfair prison sentences and that Gerardo Hernandez spends the rest of his life in a prison in the United States, where he does not belong.

(Agencia Cubana de Noticias)

Radio Rebelde. 23 # 258 % L y M. Vedado. Plaza de la Revolucion Havana City, Cuba CP. 10400. Principal Editor: Alejandro Rojas Espinosa. Webmaster: Mabel Peña Styo. Journalist: Liannis Mateu Francés - Yaicelín Palma TejasPhotojournalist: Sergei Montalvo Arostegui. Assistant: Adriana Glez Bravo. Developed by Radio Rebelde Web Team
General Director: Frank Aguiar Ponce.
Phone numbers: (53) 7 838-4365 al 68 (Cabin) (53) 7 839-2524 (Public Relations).
© Copyright Radio Rebelde, 2015