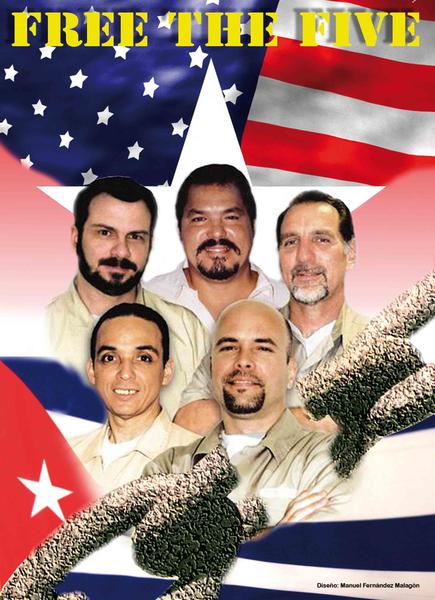 The Cuban Five: Obama and the Choice of Injustice is the title of a documentary film recently premiered at the headquarters of the France-Cuba Solidarity Organization, on the case of the five anti-terrorist Cubans who were given unfair prison sentences in the United States.

The 12-minute audiovisual, which was produced by the French organization and directed by journalist and writer Hernando Calvo, reveals valuable testimonies of personalities involved in the struggle for the release of the Cuban heroes.

Calvo told reporters that the documentary aims at raising awareness in the French public about the injustice committed against the Cubans. He announced that a translation into English of the documentary is underway to take it to the United States, where he considered the main scenario for the struggle to have the three Cubans still in prison return home.

Gerardo Hernández, Ramón Labañino, Antonio Guerrero, Fernando González and René González, known as the Cuban Five, were arrested in 1998 and submitted to a biased Miami trial in 2001, which gave them extremely long and unfair prison sentences for having monitored Florida-based ultra-right organizations that planned terrorist actions against the Cuban people.

Rene Gonzalez and Fernando Gonzalez returned to Cuba after they fully served their sentences, however, Ramon Labañino, Gerardo Hernandez and Antonio Guerrero are still held in US prisons, despite the huge international claim for their release.

During a visit to Havana the documentary director collected testimonies of Rene Gonzalez and Fernando Gonzalez, Adriana Perez, wife of Gerardo Hernandez, and Elizabeth Palmeiro, wife of Ramon Labañino.

The journalist said that the punishment of the Cuban Five is an action of ideological and political nature against Cuba.

The premiere was attended by members of the diplomatic corps, intellectuals and members of solidarity organizations.