---
Jailed Antiterrorist says Compatriot Just Released from US Prison is a Giant
2014.02.28 - 09:56:15 / web@radiorebelde.icrt.cu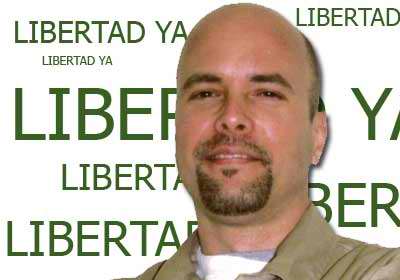 Cuban anti-terrorist fighter Gerardo Hernandez, who is still held in a US prison, expressed his satisfaction for the release from a federal jail of his compatriot Fernando Gonzalez after fully serving an unfair prison sentence.

In a message Hernandez sent from a California high security prison, where he is serving a double life sentence plus 15 years, he wrote that those who love and admire Fernando are now celebrating for his release and their struggle will now be reinforced.

Hernandez described his compatriot as a giant and praised his example. He recalled that when Fernando Gonzalez was arrested on September 12, 1998, he was about to return to Cuba for his wedding with Rosa freijanes, a ceremony that did not take place and then Rosa dedicated his life to him all these years.

Fernando is the second of the five Cuban antiterrorist fighters that were given unfair sentences in the United States for protecting their country from terrorist actions designed by Florida-based violent organizations.

Rene Gonzalez returned to Cuba after having served his sentence and he joined the struggle for the release of his four compatriots.

Fernando was released from the Arizona-based Safford penitentiary on Thursday after serving 15 years, five months and five days in prison, and he was put under US immigration services to begin with the process of his deportation to Cuba, while Gerardo Hernandez, Ramon Labañino and Antonio Guerrero remain held in US prisons.

(Agencia Cubana de Noticias)

Radio Rebelde. 23 # 258 % L y M. Vedado. Plaza de la Revolucion Havana City, Cuba CP. 10400. Principal Editor: Pablo Rafael Fuentes de la Torre. Webmaster: Mabel Peña Styo. Journalist: Liannis Mateu Francés - Laura Barrera Jerez.Photojournalist: Sergei Montalvo Arostegui. Comunity Manager: Alejandro Rojas. Assistant: Adriana Glez Bravo. Developed by Radio Rebelde Web Team
General Director: Frank Aguiar Ponce.
Phone numbers: (53) 7 838-4365 al 68 (Cabin) (53) 7 839-2524 (Public Relations).
© Copyright Radio Rebelde, 2015