---
Manipulation of Cuban Five Case Exposed in Havana
2014.03.25 - 12:11:53 / web@radiorebelde.icrt.cu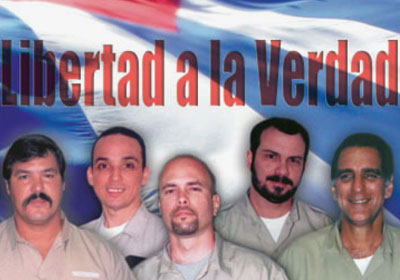 The manipulation and politicization of the case of the five Cuban anti-terrorist fighters, who were given extremely long and unfair prison sentences in the United States were exposed Monday in Havana by the lawyer of the relatives of those heroes Nuris Piñero.

During a meeting at the Cuban United Nations Association, the lawyer also stressed the significance of International Day for the Right to Truth in relation to Serious Human Rights Violations and the Dignity of the Victims, a day established by the United Nations and marked every March 24th.

This is not about a criminal issue, this is about politics, said the lawyer as she addressed the case opened in 2001. The US government committed illegalities which must be repaired.

The Miami-based media had distorted information, provided by the government to present a manipulated truth in order to justify the terrorist actions which are still design in South Florida against Cuba, said the lawyer.

She insisted in the violations committed about the right to be informed against René González, Fernando González, both already free after serving their sentences, Ramón Labañino, Antonio Guerrero and Gerardo Hernández, the latter one serving two life terms plus 15 years.

However, after so many prison years, arbitrary actions continue to take place, the lawyer denounced and noted that the Judge of the South Florida district court still has under control three Habeas Corpus petitions in favor of Hernandez, Guerrero and Labanino.

(Agencia Cubana de Noticias)

Radio Rebelde. 23 # 258 % L y M. Vedado. Plaza de la Revolucion Havana City, Cuba CP. 10400. Principal Editor: Alejandro Rojas Espinosa. Webmaster: Mabel Peña Styo. Journalist: Liannis Mateu Francés - Yaicelín Palma TejasPhotojournalist: Sergei Montalvo Arostegui. Assistant: Adriana Glez Bravo. Developed by Radio Rebelde Web Team
General Director: Frank Aguiar Ponce.
Phone numbers: (53) 7 838-4365 al 68 (Cabin) (53) 7 839-2524 (Public Relations).
© Copyright Radio Rebelde, 2015