---
President Nicolás Maduro Receives Picture made by Anti-terrorist Antonio Guerrero
2013.12.24 - 09:00:31 / web@radiorebelde.icrt.cu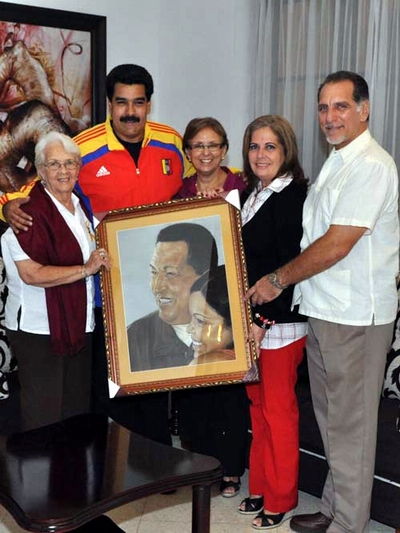 The President of Venezuela, Nicolás Maduro, received in the Cuban capital a picture with the images of Hugo Chavez and his daughter Maria, made by imprisoned Cuban antiterrorist Antonio Guerrero.

The picture was handed to President Maduro by Rene González, one of the Five Cubans who were imprisoned in the United States for monitoring terrorist activities against Cuba. Gonzalez already served his 15 year sentence and returned to the Island.

The Cuban hero, Antonio Guerrero, is currently imprisoned at the Mariana Penal Institution, in the State of Florida. After learning of the death of President Chavez, Guerrero, a noted painter, asked for a photo of the Venezuelan leader, taken by Cuban photographer Alex Castro.

At the presentation, President Maduro spoke to Antonio Guerrero´s mother, Mirta Rodriguez, and his sister, Maruchy.

President Nicolas Maduro thanked the gesture as a symbol of Cuba´s love for the late Venezuelan leader and as an expression of the will to continue the struggle for the final liberation of the four anti-terrorists still imprisoned in the United States.

(Agencia Cubana de Noticias)

Radio Rebelde. 23 # 258 % L y M. Vedado. Plaza de la Revolucion Havana City, Cuba CP. 10400. Principal Editor: Pablo Rafael Fuentes de la Torre. Webmaster: Mabel Peña Styo. Journalist: Liannis Mateu Francés - Laura Barrera Jerez.Photojournalist: Sergei Montalvo Arostegui. Comunity Manager: Alejandro Rojas. Assistant: Adriana Glez Bravo. Developed by Radio Rebelde Web Team
General Director: Frank Aguiar Ponce.
Phone numbers: (53) 7 838-4365 al 68 (Cabin) (53) 7 839-2524 (Public Relations).
© Copyright Radio Rebelde, 2015