---
World Figures Support Actions for Cuban Five in Washington
2014.02.08 - 08:45:08 / web@radiorebelde.icrt.cu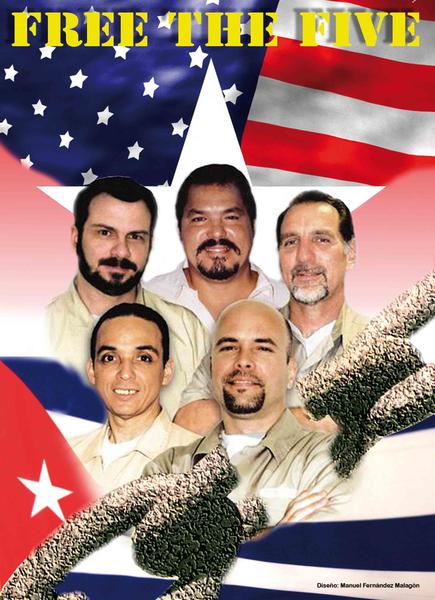 A large group of world renowned figures have expressed their support of an upcoming five-day campaign to be held in Washington to demand the release of the anti-terrorist Cuban fighters unfairly imprisoned in the United States.

Angela Davis, Danny Glover, Noam Chomsky, Ignacio Ramonet, Alice Walker, Gilbert Brownstone, Tom Hayden, Dolores Huerta, Ramsey Clark, Miguel D'Escoto, John Cavanagh, Jane Franklin, Piero Gleijeses, Stephen Kimber and Fernando Morais are among the famous names that have joined this initiative called the F-Day Rally for the Cuban Five, scheduled for June 4th through the 11th.

The International Free The Cuban Five Committee reported that an on-line blog was created (http://5daysforthecuban5.com) with photos, footage and reports on the rally. In a video circulating today on the Internet, the Mayor of Richmond, California, Gayle McLaughlin, invited the people to join the event, considered as a major action of the solidarity movement this year.

The event will reiterate the world demand for the release and return home of Gerardo Hernandez, Ramon Labanino, Antonio Guerrero and Fernando Gonzalez, who will complete his prison sentence later this month.

These men, together with Rene Gonzalez, who already returned to Cuba after serving prison and probation time in the United States, are internationally known as The Cuban Five.

They were arrested in 1998 for monitoring terrorist groups based in Miami, who were orchestrating violent actions against the Cuban people.

(Agencia Cubana de Noticias)

Radio Rebelde. 23 # 258 % L y M. Vedado. Plaza de la Revolucion Havana City, Cuba CP. 10400. Principal Editor: Pablo Rafael Fuentes de la Torre. Webmaster: Mabel Peña Styo. Journalist: Liannis Mateu Francés - Laura Barrera Jerez.Photojournalist: Sergei Montalvo Arostegui. Comunity Manager: Alejandro Rojas. Assistant: Adriana Glez Bravo. Developed by Radio Rebelde Web Team
General Director: Frank Aguiar Ponce.
Phone numbers: (53) 7 838-4365 al 68 (Cabin) (53) 7 839-2524 (Public Relations).
© Copyright Radio Rebelde, 2015