---
35 Future Cuban Diplomats Graduated from ISRI
2018-07-12 08:41:43 / web@radiorebelde.icrt.cu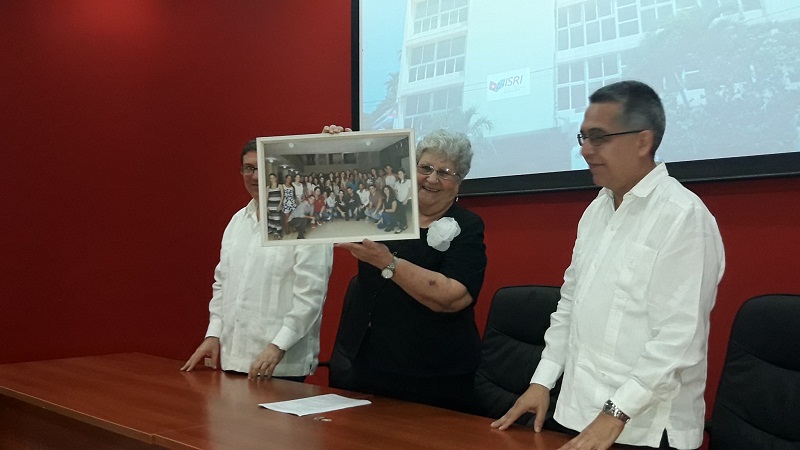 The Julio Antonio Mella graduation of the Raul Roa Garcia Higher Institute of International Relations (ISRI) graduated 35 students for foreign service during an activity that was presided by Foreign Minister Bruno Rodriguez.

During the celebration, dedicated to the 60th anniversary of the triumph of the Revolution, each one of the graduates received their diplomas in addition to a commemorative coin.

At the graduation ceremony 8 students were recognized with Gold Diplomas and were selected Vanguards and granted the Scientific Merit Award.

They were Aimara Pujadas Clavel, Aixa Paumier Lopez, Alejandro Lazaro Gonzalez Perez, Carlos Luis Hechavarria Cabrera, Claudia Llera Martinez, Franklin Hernandez Hernandez, Greisy Cordero Suarez and Lucia Mercedes Perez Cuervo.

As Vanguards and Gold Diplomas: Denysse Flora Fundora Agrelo, Gabriela Gonzalez Garcia, Nuria Peregrin Fernandez and Talia Mansur Fernandez; while Integral Vanguards went to Agustin Enrique Ortiz Montalvo, Liana Hernandez Gonzalez, Edisleydi Curbelo Garcia and Susana Quintero Camero.

The Rector of ISRI, Isabel Allende Karam; First Foreign Minister Marcellino Medina Gonzalez and Vice Rectors Leyde Rodriguez, Manuel Cabonell Vidal and Gerardo Hernandez Nordelo were also at the graduation ceremony.

(ACN)

Radio Rebelde. 23 # 258 % L y M. Vedado. Plaza de la Revolucion Havana City, Cuba CP. 10400. Principal Editor: Pablo Rafael Fuentes de la Torre. Webmaster: Mabel Peña Styo. Journalist: Liannis Mateu Francés - Laura Barrera Jerez.Photojournalist: Sergei Montalvo Arostegui. Comunity Manager: Alejandro Rojas. Assistant: Adriana Glez Bravo. Developed by Radio Rebelde Web Team
General Director: Frank Aguiar Ponce.
Phone numbers: (53) 7 838-4365 al 68 (Cabin) (53) 7 839-2524 (Public Relations).
© Copyright Radio Rebelde, 2015