---
A New Environmental Path to Climb the Turquino Mountain
2017-07-28 07:21:26 / web@radiorebelde.icrt.cu / Translated by: JC Caballero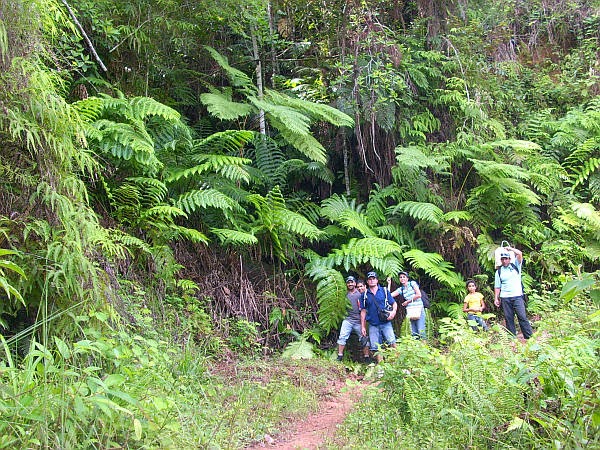 A new path for the climbing of the Turquino Mountain, which is environmental with a similar natural and landscape with less impacts over the biodiversity of the Turquino National Park, has been developed by a multidisciplinary team made up of specialists from the eastern Granma province.

As it was declared to Radio Rebelde news station by the MSc. Adonis Ramón Puebla from the Ministry of Science, Technology and Environmental, the proposal about a new path that is aimed at being approved by the related institutions to help to continue showing the natural values about that important protected area from another zone by decreasing the pressure over the current path from Santo Dom ingo, along with a high rate of international and national tourism demand.

The importance of this work has a great impact to continue developing the natural tourism in the Turquino National Park by beginning to develop it in the local Buey Arriba municipality due to it does not have a natural tourist activity in spite of its possibilities." The expert, Adonis Ramón Puebla, pointed out.

"On the other hand, it will allow reducing the quantity of visitors in that path who comes from Santo Domingo area and it will distribute them into other sectors of the Park without affecting the main ecological processes for the dynamic functioning of these ecosystems, according to its functional zone." He explained.

Adonis Ramón Puebla says that the proposal is mainly about a path of 14.640 meters that can be carried out on foot and it is recommended for a daily group of no more than 15 people.

Adonis Ramón Puebla points out that the trip would stretch trough zones with an acceptable level of preservation and mainly under the shadow of the forest by not incorporating some zones of the park which are under a strict preservation regime, except the zone that will be united to the already approved official path that stretches through its three segments which are under that same system.


"The appreciable images during the entire path were assessed by that team that had previously walked throughout the two paths. Those images were even much more impressive in some cases than the ones provided by the current paths." Adonis Ramón Puebla concluded.

"The approval of that new path would certainly contribute to decrease the related pressure that starts in Santo Domingo and increases the return of visitors while offering them some new visual and landscape experiences. It would help to improve the preservation and restoration of a zone of the park and its practically abandoned outskirt due to its distance and current low interest about it." Adonis Ramón Puebla pointed out.

"Likewise, it would help the local development, job generation and diverse economic diversity of the Buey Arriba municipality, especially in the local California Community, besides; there is just the coffee and agricultural activity pending." Adonis Ramón Puebla said.

The National Turquino Park was created in 1991 and it is located in the center and east reagion of the Sierra Maestra Mountain Range some 60 kilometers of the Bayamo city. It has the Turquino Mountain as the highest elevation of the nation (1974 meters above the sea level).

With a large and important endemic fauna and fauna presence, its is one of the best preserved mountain ecosystems of its type and the cloudy forests are its main kind of vegetation, including the rain mountain, the always green forests and the fresh bush and specie, which is the only one of its type in the nation and at the peak of the Turquino Mountain.

Having been one of the main sceneries of the liberating struggles of the Rebel Army led by the then Commander Fidel Castro, it was precisely there where it was set the main headquarter in the Plata region which is still preserved and it is really visited by Cubans and foreign visitors.

By Lucia Sanz Araujo

Radio Rebelde. 23 # 258 % L y M. Vedado. Plaza de la Revolucion Havana City, Cuba CP. 10400. Principal Editor: Pablo Rafael Fuentes de la Torre. Webmaster: Mabel Peña Styo. Journalist: Liannis Mateu Francés - Laura Barrera Jerez.Photojournalist: Sergei Montalvo Arostegui. Comunity Manager: Alejandro Rojas. Assistant: Adriana Glez Bravo. Developed by Radio Rebelde Web Team
General Director: Frank Aguiar Ponce.
Phone numbers: (53) 7 838-4365 al 68 (Cabin) (53) 7 839-2524 (Public Relations).
© Copyright Radio Rebelde, 2015