---
American blockade against Cuba rejected in Saint Lucia
2020-04-07 13:12:14 / web@radiorebelde.icrt.cu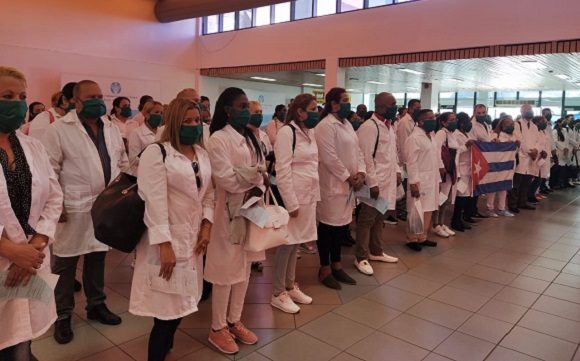 The Humanistic Solidarity Association Saint Lucia-Cuba joined the voices condemning the economic, commercial and financial blockade imposed by United States on the Cuban people almost 60 years ago, which is currently intensified at times of the worldwide health emergency by COVID-19.
Through a statement, the organization reaffirmed its deep and permanent solidarity with the Cuban Government and people on the occasion of the recent "inhumane and undemocratic actions of the US Government, in midst of the fight by the international community against the pandemic of the new coronavirus ", published Prensa Latina news agency.
The declaration describes as "a criminal, ridiculous and inconceivable act" the United States' prohibitions to prevent the arrival in Cuba of medical supplies, including masks, rapid diagnostic kits and ventilators, donated by Chinese philanthropist Jack Ma.
It stresses that despite the fact that Cuba also faces unprecedented threats from COVID-19, the Caribbean island continues to provide disinterested medical assistance worldwide and has offered aid to more than 14 countries in the fight to mitigate the disease.
"The association declares itself deeply shocked by the continuous and despicable actions of the Donald Trump administration against Cuba, even more at a time when the international community of nations has combined efforts to contain and resolve this pandemic," the note says.
Despite the blockade, Cuba has so far sent members of the Henry Reeve medical brigades to confront COVID-19 to Suriname, Venezuela, Nicaragua, Dominica, Saint Vincent and the Grenadines, Barbados, Belize, Jamaica, Saint Lucia, Haiti, Granada, Saint Kitts and Nevis, Italy and the Principality of Andorra.

(ACN)

Radio Rebelde. 23 # 258 % L y M. Vedado. Plaza de la Revolucion Havana City, Cuba CP. 10400. Principal Editor: Alejandro Rojas Espinosa. Webmaster: Mabel Peña Styo. Journalist: Liannis Mateu Francés - Yaicelín Palma TejasPhotojournalist: Sergei Montalvo Arostegui. Assistant: Adriana Glez Bravo. Developed by Radio Rebelde Web Team
General Director: Frank Aguiar Ponce.
Phone numbers: (53) 7 838-4365 al 68 (Cabin) (53) 7 839-2524 (Public Relations).
© Copyright Radio Rebelde, 2015