---
Another step in favor of the links between Cuba and its emigration
2017-11-01 09:50:22 / web@radiorebelde.icrt.cu / Translated by: Aylen Lesmes Bonachea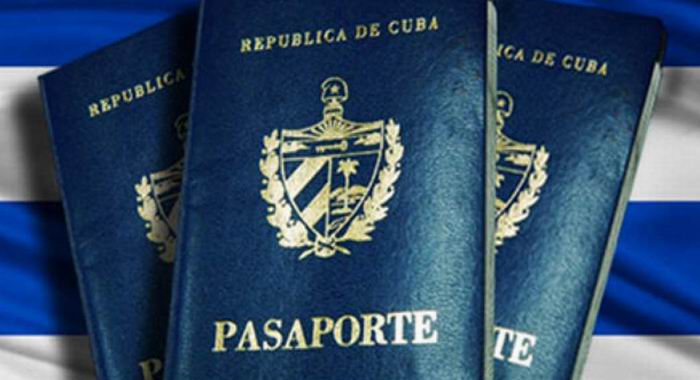 With the new measures that will come into effect on January 1st of 2018, as part of the continuous and irreversible actualization process of the Cuban migratory policy, Cuba gave another step in order to strengthen its relationship with the emigration.
The measures approved by the sovereign decision of the State extend new links with the Cubans who reside abroad; they benefit to hundreds of thousands of emigrants from the Island and continue the actualization process of the migratory policy of our country.

The regulations announced this weekend, like so others adopted in during the latest years, they are based on approaches, requests and suggestions of the own Cubans living in other nations.

In this context we cannot ignore that the recent measures were announced in the middle of a complex scenario for the Cuba- United States relationships.

During decades the successive North-American governments have used the migratory theme as an instrument of aggression against Cuba. The experts recognizes that after the elimination of the policy of dry feet-wet feet last January 12th, which took a lot of lives, it was confirmed a notable diminution of the flow of irregular immigrants towards the United States.

According to the opinion of the consulted specialists, the data and the facts demonstrate that the policy and the plan of the American government for imposing its will to this Caribbean Island was true factors of strength and incentive to the illegal, irregular and disordered emigration.

The migratory measures announced by Cuba were informed in Washington by the chancellor Bruno Rodríguez Parrilla, who attended this Saturday to the closing session of the IV Encounter of Cubans living in the United State in Defense of the National Sovereignty and Against the Blockade.

The official channel of the Ministry of External Affairs of the Republic of Cuba in YouTube published the speech pronounced by chief of the diplomacy during that meeting that was made days after the celebration of the regional encounters of Cubans living in Europe and in Latin America.

The Cuban Minister of External Affairs assured that the government of Cuba will continue studying new actualization measures of its migratory policy.

With these decisions, it is given continuity to the measures adopted on January of 2013, as part of the efforts that the country realizes for approaching and to strengthen, even more, the links between Cuba and its emigration, a process that was begun by the Commander in Chief of the Cuban Revolution Fidel Castro Ruz in 1978; and later enriched by the conferences celebrated in 1994, 1995 and the year 2004.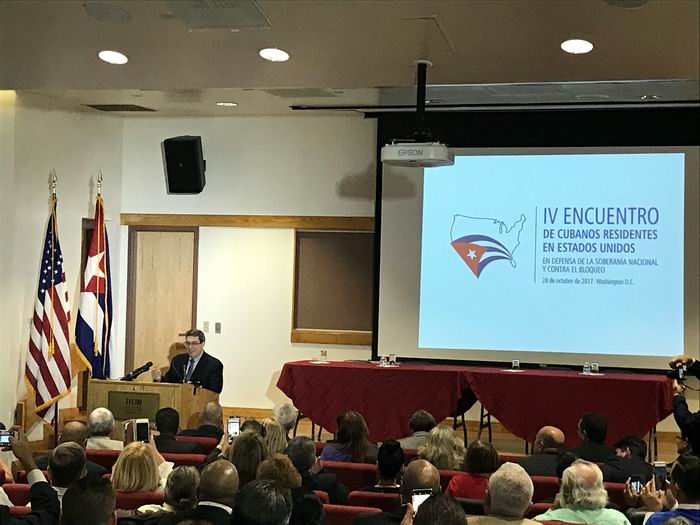 While Cuba remains committed to strengthening of the links with the Cuban citizens resident abroad, the American government decided to reduce drastically the personnel of its Embassy in Havana and suspended the emission of the visas in its Consulate.

The travel of the Cuban citizens to Colombia for obtaining immigrant visas and to third countries for getting other types of American visas, with no guarantees of its awarding; besides increasing the trips' cost in a considerable manner, it makes them almost unviable. This will directly affect to the Cuban families that from now on, they could not obtain their visas in Havana and will confront bigger obstacles for visiting their families and even for those who wish to emigrate.

The unfounded and arbitrary decision of expulsing 17 functionaries of the Cuban Embassy in Washington out of its territory, including a huge part of the Consulate's personnel; it will have a negative impact in the consular services and will make difficult, particularly, the trips of the Cuban living in the United States to our country.

In these circumstances, Cuba ratify that it will continue its lengthy efforts in order to strengthen the links of relationships with it emigration who feels love for the Homeland. Nowadays there are more than 150 associations of Cubans in near eighty countries, whom constitute a fundamental bastion in the supporting to essential claims of the nation, specially the elimination of the North American blockade and the return of the territory illegally occupied in Guantánamo by the American naval base.

By: Angélica Paredes López

Radio Rebelde. 23 # 258 % L y M. Vedado. Plaza de la Revolucion Havana City, Cuba CP. 10400. Principal Editor: Pablo Rafael Fuentes de la Torre. Webmaster: Mabel Peña Styo. Journalist: Liannis Mateu Francés - Laura Barrera Jerez.Photojournalist: Sergei Montalvo Arostegui. Comunity Manager: Alejandro Rojas. Assistant: Adriana Glez Bravo. Developed by Radio Rebelde Web Team
General Director: Frank Aguiar Ponce.
Phone numbers: (53) 7 838-4365 al 68 (Cabin) (53) 7 839-2524 (Public Relations).
© Copyright Radio Rebelde, 2015