---
British businessmen show interest in Cuban market
2019-06-19 11:55:31 / web@radiorebelde.icrt.cu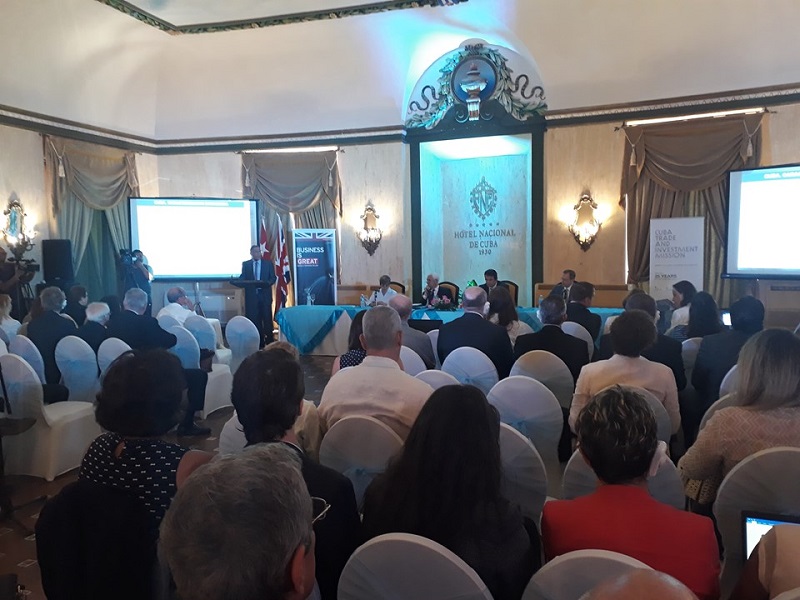 Cuban experts presented in the capital Hotel Nacional a broad portfolio of investments on the island and explained legal and tax issues to a delegation of British businessmen who attend a forum that concludes this Wednesday.
According to information published byP Latina, Deborah Rivas, an official of the Ministry of Foreign Trade and Foreign Investment, presented foreign investment projects in the country and detailed the development program by sectors.
The outstanding jurist Rodolfo Dávalos denounced the extraterritorial character of the Helms-Burton law, by means of which the United States government intends to destroy the Cuban Revolution.
Meanwhile, an official from the National Tax Administration Office explained aspects of the national tax system and a representative from the National Bank of Canada shared his experience in the Caribbean nation.
Later, Ricardo Cabrisas, vice-president of the Council of Ministers, and the first vice-minister of Foreign Affairs of Cuba, Marcelino Medina, received Lord David Triesman, co-chairman of the Cuba Initiative group, with whom they discussed the state of bilateral relations.
According to sources from the Ministry of Foreign Trade and Investment, the program of Triesman's visit includes meetings with directors of a dozen portfolios including Energy and Mines, Transport and Tourism, as well as the Central Bank of Cuba.
He will also visit facilities of the BioCubaFarma Business Group and the Mariel Special Development Zone.
Iniciativa Cuba is an independent non-governmental organization that supports programs that improve relations with the United Kingdom and Cuba. It was founded
in 1995 in response to a request from both governments with a particular focus on trade and investment promotion.
The event was inaugurated on Monday with the presence of Cuban President Miguel Diaz-Canel Bermudez.




(ACN)

Radio Rebelde. 23 # 258 % L y M. Vedado. Plaza de la Revolucion Havana City, Cuba CP. 10400. Principal Editor: Alejandro Rojas Espinosa. Webmaster: Mabel Peña Styo. Journalist: Liannis Mateu Francés - Yaicelín Palma TejasPhotojournalist: Sergei Montalvo Arostegui. Assistant: Adriana Glez Bravo. Developed by Radio Rebelde Web Team
General Director: Frank Aguiar Ponce.
Phone numbers: (53) 7 838-4365 al 68 (Cabin) (53) 7 839-2524 (Public Relations).
© Copyright Radio Rebelde, 2015