---
Ceballos Agroindustrial Enterprise contributes the economic development of the country
2017-10-06 10:02:35 / web@radiorebelde.icrt.cu / Translated by: Aylen Lesmes Bonachea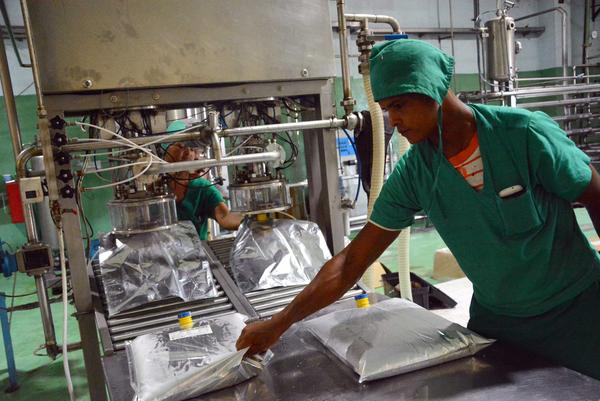 The purpose of Ceballos Agroindustrial Enterprise, located in this region of the country, is to achieve that the agroindustrial production can contribute to the development of the country's economy and it can be expressed in an increase of its participation in the Gross domestic product with a greater offer of food with a destination to the national consumption and the tourism.
The leading Enterprise, located in the city of the Portales, changes its management model in correspondence with the greater presence of non state production forms, in which the state agricultural company can constitutes itself in the principal manager of the technological development and the strategies of production and commercialization.
Another of the strategies is using the financial-mercantile relations in an effective way and consolidating the autonomy given to the producers, in order to increase the efficiency and the competitiveness of its productions in all the Cuban provinces.
According to the expressed by Wilber Bringa Fernández, General Director of Ceballos Agroindustrial Enterprise, in Haciendo Radio Information Program from the Revolution's broadcasting station; it is working in the revival of the citric agroindustry, in the raise and diversification of the fruits' production as well as ensuring the collection and the effective commercialization of fresh and industrialized fruits in the international and national markets.
He emphasized that for the fulfillment of the social object the Ceballos Agroindustrial Enterprise counts with 10 subordinated Base Business Units (UEB), 8 Basic Units of Agricultural Production (UBPC), 21 Credit and Service Cooperatives (CCS) and 4 Cooperatives of Agricultural Production (CPA) in 3 municipalities of the province: Ciro Redondo, Morón y Ciego de Ávila.
"We count with a development project characterized by the harmonic integration between the structures of the agricultural production with the industry, using the renewable energy sources, warranting the project's sustainability and a diversified production with a quality that allows the commercialization of fresh and industrialized products in different distribution channels both in the national territory and abroad", mentioned, Bringa Fernández.

Ceballos Agroindustrial Enterprise from Ciego de Ávila is national and international recognized and it has an Evaporator of fruits and tomatoes, three aseptic packaging lines, Doy Pack lines, a Pre-fried potatoes line, a waste treatment plant, a bars line and mini-dose and a frozen and canned products packaging line.
In the period from 2017 to 2018 the Enterprise from Ciego de Ávila will tackle actions like: the capital repair of the freezer, the line of processing for pineapple juice, marmalade and slices, segments in syrup, the Filling of pre-fried potatoes, the recovery of vegetable condensate water and the Doy Pack packaging line of 1.0 kg and 2.5 kg.

By: Luis Falcón Saavedra

Radio Rebelde. 23 # 258 % L y M. Vedado. Plaza de la Revolucion Havana City, Cuba CP. 10400. Principal Editor: Pablo Rafael Fuentes de la Torre. Webmaster: Mabel Peña Styo. Journalist: Liannis Mateu Francés - Laura Barrera Jerez.Photojournalist: Sergei Montalvo Arostegui. Comunity Manager: Alejandro Rojas. Assistant: Adriana Glez Bravo. Developed by Radio Rebelde Web Team
General Director: Frank Aguiar Ponce.
Phone numbers: (53) 7 838-4365 al 68 (Cabin) (53) 7 839-2524 (Public Relations).
© Copyright Radio Rebelde, 2015