---
CELAC approves the Political Declaration of Punta Cana
2017-01-27 09:00:08 / web@radiorebelde.icrt.cu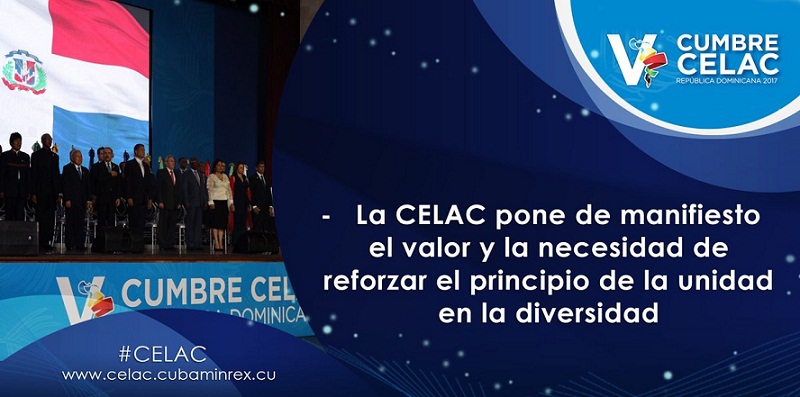 The heads of Government and State of the 33 member countries of the Community of Latin American and the Caribbean States (CELAC) approved the Political Declaration of Punta Cana.
The document states that CELAC is a space for the promotion of common interests of the peoples in the region, and a mechanism of unity and political dialogue based on reciprocal trust among governments and the respect to diversity to move forward integration.
It adds their commitment to keep the region as a Peace Zone, as proclaimed in the Havana's Summit in 2014, which contributes to the climate of respect among member states. The proclamation calls for the resolution of controversies through peaceful means and the acknowledgement of the right of the States to have their own political, economic, social and cultural system.
The Punta Cana declaration supports the national dialogue in Venezuela between the government and the opposition, within the framework of the Venezuelan Constitution
The leaders also agreed to demand the repeal of the "Executive Order of the United States of America originally approved on March 9, 2015," which imposes economic sanctions against Venezuelan officials, an end to the US blockade of Cuba and the return of Guantánamo.
The hand over to the Caribbean island of this US military base is, according to the statement, "an important element of the process of normalization of relations between both countries" initiated in 2014 and "welcomed " today in the presidential event of Punta Cana.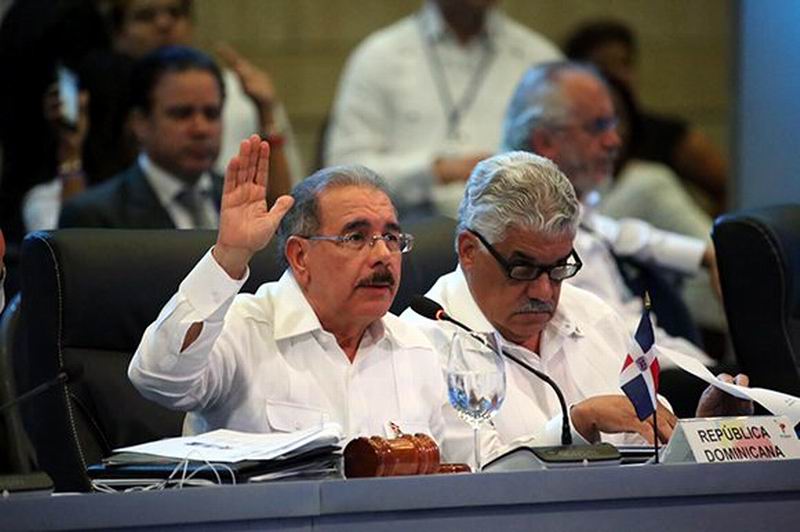 The summit's final text also includes a series of commitments from heads of State that had already been adopted at other summits. These include strengthening the fight against corruption, drug trafficking and climate change, improving judicial cooperation, eradicating hunger and promoting policies for gender equality and youth.
As a final act and after the speech of the Latin American representatives, the Dominican Republic transferred CELAC's revolving presidency to El Salvador.

(ACN)

Radio Rebelde. 23 # 258 % L y M. Vedado. Plaza de la Revolucion Havana City, Cuba CP. 10400. Principal Editor: Pablo Rafael Fuentes de la Torre. Webmaster: Mabel Peña Styo. Journalist: Liannis Mateu Francés - Laura Barrera Jerez.Photojournalist: Sergei Montalvo Arostegui. Comunity Manager: Alejandro Rojas. Assistant: Adriana Glez Bravo. Developed by Radio Rebelde Web Team
General Director: Frank Aguiar Ponce.
Phone numbers: (53) 7 838-4365 al 68 (Cabin) (53) 7 839-2524 (Public Relations).
© Copyright Radio Rebelde, 2015