---
Che Gevara and the Movie World
2017-10-10 09:12:02 / web@radiorebelde.icrt.cu
The 81-minute film entitled ´Que Historias de la Revolución, ´ which was directed by Tomás Gutiérrez Alea, was the first one premiered after the triumph of the Cuban Revolution. It has been widely shown; however, there is little information about its link with the Commander Ernesto Che Guevara.

The film that premiered on December 30th, 1930, includes three stories which reflect the same number of occasions of fight for overthrown Batista´s dictatorship that were entitled´ El Herido,`` Rebeldes` and ´La Batalla de Santa Clara.´

According to what that Cuban moviemaker Tomás Gutiérrez Alea told to Silbia Oroz through the book entitled ´ Tomás Gutiérrez: Los filmes que no filme´ by the local Ediciones Unión publishing house, Che Guevara visited that place by mere chance as his mother was then in the nation after coming from Buenos Aires city and he took her to the places where he had fought.

In addition, Titón, as he was known, narrated that there was even a higher coincidence and we had to film the ambush the following day and when I told that piece of news to Che Guevara He told us that he had carried out an ambush there on that same place. He advised us militarily and he was really the one who composed that part of the script through his own experience.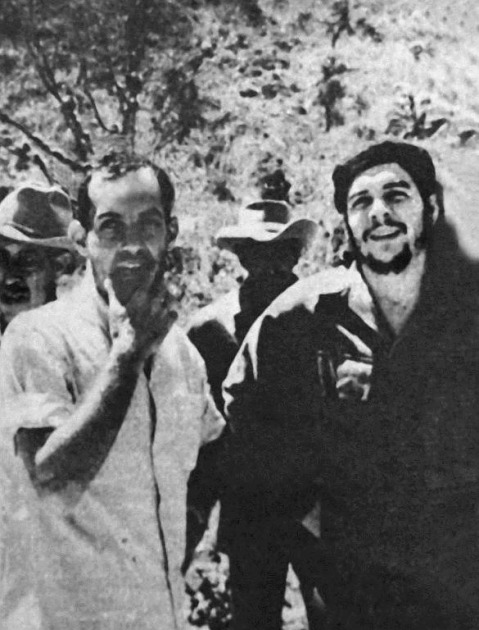 It is interesting that referring to the last anecdote of the trilogy entitled' La Batalla de Santa Clara,´ which was the best achieved of all of them, the director of emblematic works of the Cuban cinematography, such as the one entitled´Memporias del subdesarrollo´ and ´Fresa y chocolate,´ referred to the attack to the armored train.

In that scene, a rebel appears picking some weapons from the armored train. He was one of the military advisors which had been sent by Che Guevara. Alberto Fernández was his name and he and Che Guevara died in Bolivia.

There have been some photos left as a testimony about Che Guevara presence, along with that Cuban movie director who narrated that Che Guevara narrated many anecdotes which were used by movie directors to make a film which marks a milestone within the national cinematography.

By Lucía Sanz

(ACN)

Radio Rebelde. 23 # 258 % L y M. Vedado. Plaza de la Revolucion Havana City, Cuba CP. 10400. Principal Editor: Pablo Rafael Fuentes de la Torre. Webmaster: Mabel Peña Styo. Journalist: Liannis Mateu Francés - Laura Barrera Jerez.Photojournalist: Sergei Montalvo Arostegui. Comunity Manager: Alejandro Rojas. Assistant: Adriana Glez Bravo. Developed by Radio Rebelde Web Team
General Director: Frank Aguiar Ponce.
Phone numbers: (53) 7 838-4365 al 68 (Cabin) (53) 7 839-2524 (Public Relations).
© Copyright Radio Rebelde, 2015