---
Ciegoplast Guarantees Pipes for Important Hydraulic Works in Cuba
2019-07-17 10:19:26 / web@radiorebelde.icrt.cu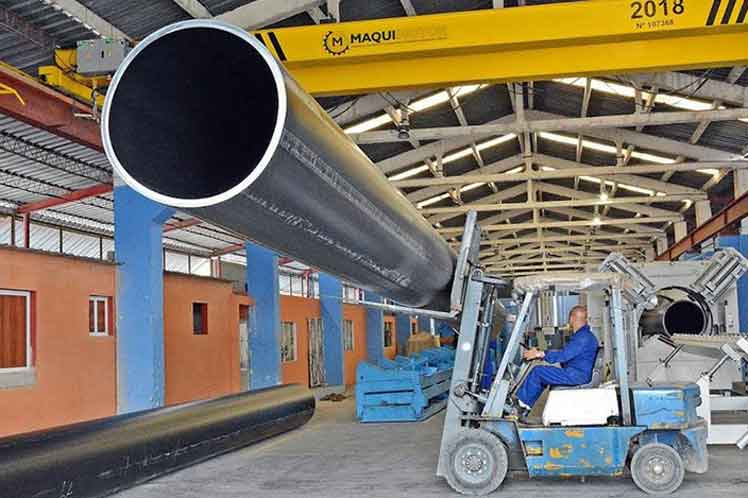 The Ciegoplast industry, which produces high-density polyethylene pipes and fittings, currently offers great contributions for new investments and rehabilitation of the hydraulic system in Cuba, according to its directors.

This year the entity, which belongs to the central province of Ciego de Avila, expanded its production levels with the start-up of a new line for the manufacture of pipes with a diameter of 1,200 millimeters.

With the new equipment it increases its production capacity, as it can process 1,200 kilograms of pipes every hour, explained Sergio Barrios, General Director of Ciegoplast.

For his part, Diego Garcia, Deputy Director of Insurance of the Unit, said this year they have sent more than 60 percent of pipes and connections for important works in Havana, Mariel Special Development Zone and Camaguey province, among others.

He added that the contribution also includes tourist investments in the keys of the north of the central region of the island and reservoirs that are built in different territories of the country.

Ciegoplast manufactures more than 300 assortments of pipes, connections, T's and reduced linears, of different diameters for hydraulic networks, as well as floating structures to support water pumps in the intakes of the dams and cages for intensive fish breeding, among others.

Belonging to the Cuban Company of Hydraulic Resources, Ciegoplast shines for the quality of its pipes, efficient organization of the productive process and for its great contributions to the economy of the country by substituting imports.

The high density polyethylene pipes are easy to install, flexible, resistant and do not need maintenance during their exploitation, besides having a useful life of up to 100 years.

(PL)

Radio Rebelde. 23 # 258 % L y M. Vedado. Plaza de la Revolucion Havana City, Cuba CP. 10400. Principal Editor: Alejandro Rojas Espinosa. Webmaster: Mabel Peña Styo. Journalist: Liannis Mateu Francés - Yaicelín Palma TejasPhotojournalist: Sergei Montalvo Arostegui. Assistant: Adriana Glez Bravo. Developed by Radio Rebelde Web Team
General Director: Frank Aguiar Ponce.
Phone numbers: (53) 7 838-4365 al 68 (Cabin) (53) 7 839-2524 (Public Relations).
© Copyright Radio Rebelde, 2015