---
Critical approach to commercial activity report in Cuba
2020-02-22 15:02:27 / web@radiorebelde.icrt.cu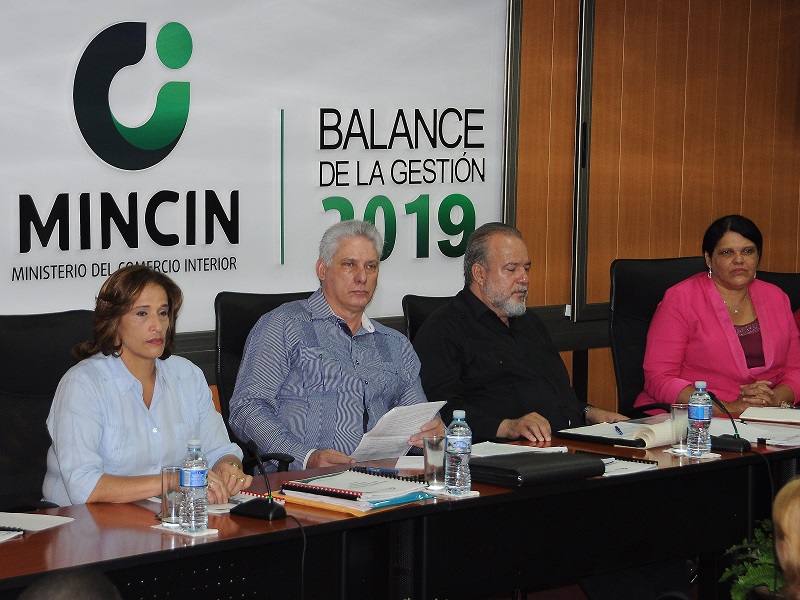 The Ministry of Domestic Trade (MINCIN ) is carrying out today its annual report on the work in 2019 with a critical approach and the effort to face the consequences of the U.S. blockade.

Cuban President Miguel Diaz-Canel and Prime Minister Manuel Marrero attended the debate of the report presented by the head of the MINCIN, Betsy Diaz.

The incumbent referred to the main difficulties affecting trade management, such as insufficient quality and effectiveness in retail sales and their correspondence with inventories, the Granma newspaper reports on its website.

Also, non-compliance with the retail trade circulation and non-payment chains that mainly affect producers.

The report states that despite the country's shortages, which is subject to a policy of siege intensified by the United States, supplies for prioritized programs such as the basic family basket are guaranteed.

It also refers to the revival of road units, the service in train terminals and marketing actions that contribute to the energy program, although it states that the result achieved is far from the effectiveness that current circumstances require.

The report acknowledges public dissatisfaction, as well as fissures that encourage illegal activities and inadequate control of resources.

(PL)

Radio Rebelde. 23 # 258 % L y M. Vedado. Plaza de la Revolucion Havana City, Cuba CP. 10400. Principal Editor: Alejandro Rojas Espinosa. Webmaster: Mabel Peña Styo. Journalist: Liannis Mateu Francés - Yaicelín Palma TejasPhotojournalist: Sergei Montalvo Arostegui. Assistant: Adriana Glez Bravo. Developed by Radio Rebelde Web Team
General Director: Frank Aguiar Ponce.
Phone numbers: (53) 7 838-4365 al 68 (Cabin) (53) 7 839-2524 (Public Relations).
© Copyright Radio Rebelde, 2015