---
Cuba and Iran sign Collaboration Agreements
2017-02-17 09:52:54 / web@radiorebelde.icrt.cu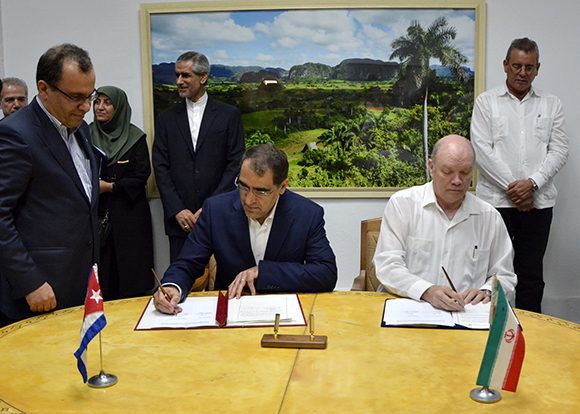 Representatives of Cuba and Iran signed 12 documents of cooperation in socio-economic sectors, after the conclusion of the 6th session of the Intergovernmental Commission of both countries.
Rodrigo Malmierca, Cuban Minister of Foreign Trade and Foreign Investment, and Hassan Qazizadeh Hashemi, Minister of Health and Medical
Teaching in that Middle Eastern nation, signed the final minutes of the working group sessions.
The agreements are on the granting of diplomatic and services visas, agriculture, hydraulics, higher education, pharmaceutical industry, as well as radio and television, all signed by executives of each of their respective agencies and institutions.
This proves the great interest that the two governments have to develop their economic relations, which must reach a level as high as that of the political ties, said Malmierca.
He thanked the delegation headed by Qazizadeh Hashemi and his collaborators in the success of the outcome of the deliberations of the Intergovernmental Commission.
Qazizadeh Hashemi told ACN that they began the work for the signing, soon, of another 10 agreements.
He noted the certainty that their implementation will be very effective in deepening bilateral relations and highlighted the official visit to Havana last September of Hassan Rouhani, president of Iran.
On that occasion, Rouhani led, along with Army General Raúl Castro Ruz, Cuban president, the signing of the Memorandum of Understanding for cooperation in the field of health, research, education, medicines and medical technology.
For decades, Iran has always been at the side of the Cuban Revolution and its people, said Qazizadeh Hashemi, who previously met with Ricardo Cabrisas, vice president of the Council of Ministers and Minister of Economy and Planning, and other Cuban officials.
Iran is the eighteenth largest country in the world with an area of 1 648 195 square kilometers and has a population of more than 70 million inhabitants.
Its name means the land of the Aryans and is an Islamic republic from the referendum of 1979, which abolished hereditary monarchy.
The exploitation of oil in the twentieth century caused that the extraction of crude, its refining and the manufacture of derivative products are its main source of wealth.

(ACN)