Cuba and Serbia agree on strengthening bilateral ties
2019-10-15 11:27:32 / ACN
---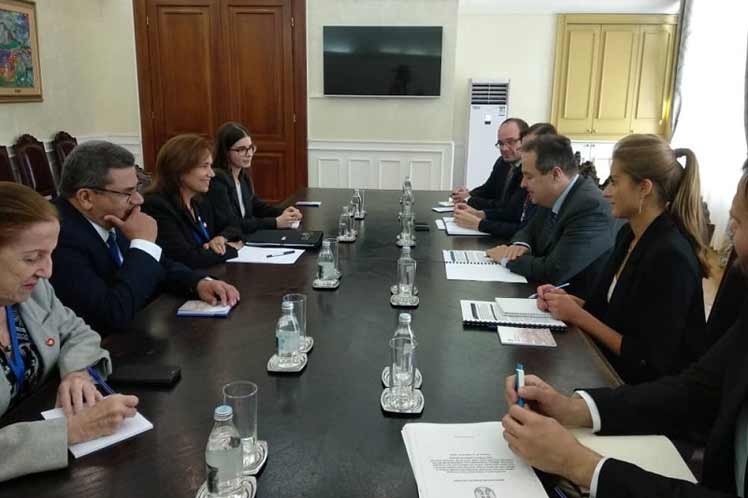 Ana Maria Mari Machado, deputy president of the National Assembly of People's Power of Cuba (Parliament) and the Council of State, held talks today in Belgrade with the first vice president of the Serbian government and Minister of Foreign Affairs, Ivica Dacic.
In a warm and fraternal exchange, corresponding to the level of relations between the two countries, the partners assessed the state of bilateral ties and agreed to continue developing them, Prensa Latina reported.
The Cuban vice president, who arrived in Belgrade on Sunday as head of her country's delegation to the 141st Assembly of the Inter-Parliamentary Union, thanked Serbia for supporting Cuba regarding the US blockade and for voting in favor of the resolution presented at the UN by this Caribbean country to end this hostile White House policy.
For his part, Dacic praised the Havana government's support for Serbia's territorial integrity and sovereignty, with emphasis on the Kosovo issue.
Tatjana Conic, Deputy Minister of Multilateral Affairs, and officials from the North, South America and Cuba departments were present for the Serbian Foreign Ministry.
Mari Machado was accompanied by Congresswoman Yolanda Ferrer Gomez, president of the International Relations Committee of the Cuban parliament; the Cuban ambassador to Serbia, Gustavo Trista del Todo, and Parliament official Jesus Rafael Mora Gonzalez.