---
Cuba at IAAF World Championships: Robles Disqualified, Borges Wins Silver in Men's Pole Vault
2011.08.29 - 12:33:20 / web@radiorebelde.icrt.cu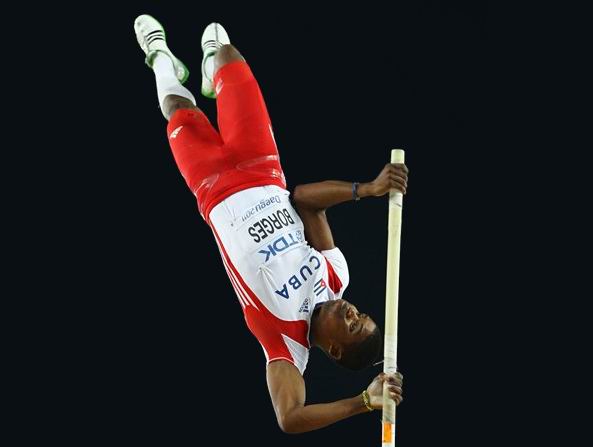 HAVANA, CUBA.- After Sunday's fiasco in the much-anticipated men's 100-meter race, in which Jamaica's Usain Bolt —the fastest man on Earth— was automatically disqualified on a false start, the sprint events of the ongoing IAAF World Championships in Daegu, South Korea, continued to bring controversial decisions on Monday with the disqualification of Cuba's reigning Olympic champion and world record holder Dayron Robles.

Robles, who won the race in 13.14 seconds, was later disqualified for interfering with Chinese star Liu Xiang (13.27), who had crossed the finish line third behind Jason Richardson (13.16) of the United States.

Thus, Richardson benefited from the decision and was given the gold medal while Xiang was elevated to the silver medal and Andrew Turner of Britain took the bronze in 13.44, the same time as fourth-placed David Oliver of the United States.

A counter-protest lodged by Cuban officials was rejected by the Jury of Appeal.

Meanwhile, in an unprecedented performance, Lazaro Borges gave Cuba its third medal in the IAAF World Championships in Daegu as he leapt to silver in the men's pole vault event.

Borges cleared 5.90 meters, a new Cuban national record, and grabbed the silver medal of an event won by Polish Pawel Wojciechowski, who cleared the same height but in one less attempt. The bronze medal was for French Renaud Lavillenie (5.85m).

On Sunday, Yarelis Barrios (women's Discus) and Leonel Suarez (Heptathlon) opened the medal count for Cuba with bronze medals in their respective events.

(ACN)

Radio Rebelde. 23 # 258 % L y M. Vedado. Plaza de la Revolucion Havana City, Cuba CP. 10400. Principal Editor: Pablo Rafael Fuentes de la Torre. Webmaster: Mabel Peña Styo. Journalist: Liannis Mateu Francés - Laura Barrera Jerez.Photojournalist: Sergei Montalvo Arostegui. Comunity Manager: Alejandro Rojas. Assistant: Adriana Glez Bravo. Developed by Radio Rebelde Web Team
General Director: Frank Aguiar Ponce.
Phone numbers: (53) 7 838-4365 al 68 (Cabin) (53) 7 839-2524 (Public Relations).
© Copyright Radio Rebelde, 2015