---
Cuba beats the Dominican Republic in the NORCECA Menīs Pan American Cup
2017-07-26 11:41:37 / web@radiorebelde.icrt.cu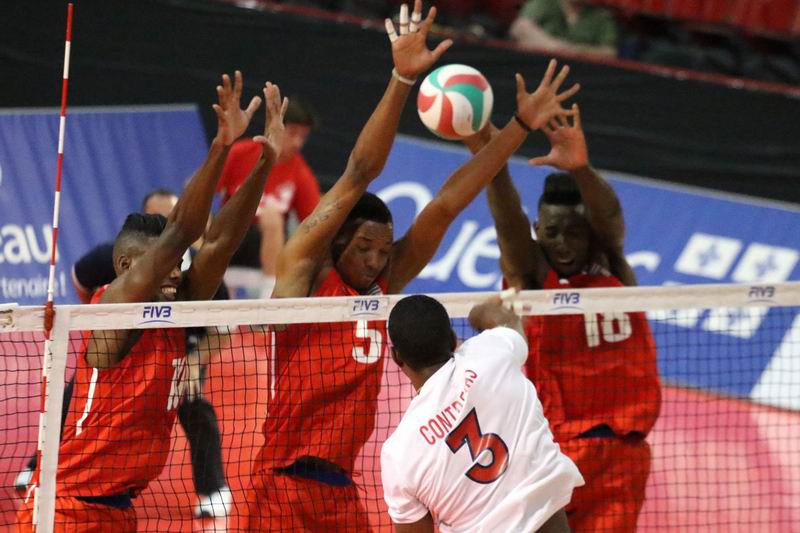 Cuba defeated the Dominican Republic in the first day of the 2017 NORCECA 12th Men´s Pan American Cup, based in Gatineau, Canada, and they will face Mexico today.

According to the website of the tournament, Cubans won 3-1 (25-17, 25-22, 21-25 and 25-22) in one hour and 41 minutes, with highlight to Miguel Angel Lopez.

Lopez was the top scorer of the game with 23 points, and was escorted by Miguel David Gutierrez (18) and Livan Osoria (10), while Henry Lopez (16), José Caceres (14) and Elvis Contrera (14) stood out for the losing side.

In the other match of this Group A, United States beat 3-1 (25-18, 25-23, 22-15 and 25-18) Mexico, while in Poole B, Argentina surpassed 3-0 (25-20, 25-14 and 25-17) Puerto Rico, and Canada won 3-1 (25-17, 25-27, 25-15 and 25-22) over Venezuela.

Today´s other matches are the DR-USA, Argentina-Venezuela, and Canada-Puerto Rico.

The leaders of each Poole will advance directly to semifinals, while the second and third seats will go to quarterfinals, and if winning they qualify to semi-finals.

In the history of this tournament, United States appears as leader in the standings with five gold and two silver medals, followed by Brazil (3-0-0), Cuba (2-0-1), Mexico (1-1-0), Argentina (0-4-2), Canada (0-2-3), DR (0-1-3), Puerto Rico (0-1-1) and Venezuela (0-1-1).

(ACN)

Radio Rebelde. 23 # 258 % L y M. Vedado. Plaza de la Revolucion Havana City, Cuba CP. 10400. Principal Editor: Pablo Rafael Fuentes de la Torre. Webmaster: Mabel Peña Styo. Journalist: Liannis Mateu Francés - Laura Barrera Jerez.Photojournalist: Sergei Montalvo Arostegui. Comunity Manager: Alejandro Rojas. Assistant: Adriana Glez Bravo. Developed by Radio Rebelde Web Team
General Director: Frank Aguiar Ponce.
Phone numbers: (53) 7 838-4365 al 68 (Cabin) (53) 7 839-2524 (Public Relations).
© Copyright Radio Rebelde, 2015