---
Cuba braces ahead of powerful storm, cold front
2018-12-20 10:15:41 / web@radiorebelde.icrt.cu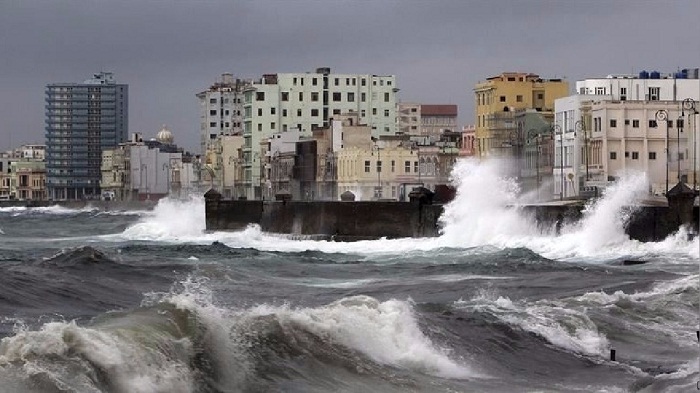 According to information from the Center for Forecasts of the Institute of Meteorology, the extratropical low will affect from the early morning of Thursday 20 with south winds between 30 and 45 kilometers per hour with gusts higher in the western provinces and the Isle of Youth.

This situation will cause tidal waves on the southern coast from Pinar del Río to Cienfuegos, including the Special Municipality of the Isle of Youth, causing coastal flooding.

According to the models carried out, the penetration of the sea can reach up to 500 meters in Batabanó and 1,000 meters in the low areas of Artemisa.

Taking into account the characteristics of this event, it is reiterated to the governing bodies, state agencies, economic entities and social institutions and to the territories, to comply with the measures provided for disaster risk reduction.

The population is guided to remain attentive to the information of the Institute of Meteorology and Civil Defense, and orderly comply with the guidelines of local authorities.

Transportation by sea suspended in the Gulf of Batabano

Due to the adverse weather conditions in the Gulf of Batabanó, which affect the safety of navigation during the crossing and berthing at the ports of Batabanó, Gerona and Cayo Largo del Sur, it was decided to suspend the maritime transportation of passengers and cargo between these ports from 00:00 hours this December 20.

The Practical companies of Cuba and Caribbean Navigation are in contact with the Institute of Meteorology to inform the re-establishment of these services.

(ACN)

Radio Rebelde. 23 # 258 % L y M. Vedado. Plaza de la Revolucion Havana City, Cuba CP. 10400. Principal Editor: Alejandro Rojas Espinosa. Webmaster: Mabel Peña Styo. Journalist: Liannis Mateu Francés - Yaicelín Palma TejasPhotojournalist: Sergei Montalvo Arostegui. Assistant: Adriana Glez Bravo. Developed by Radio Rebelde Web Team
General Director: Frank Aguiar Ponce.
Phone numbers: (53) 7 838-4365 al 68 (Cabin) (53) 7 839-2524 (Public Relations).
© Copyright Radio Rebelde, 2015