---
Cuba Defends the Need to Continue United for Venezuela
2018-03-07 09:39:48 / web@radiorebelde.icrt.cu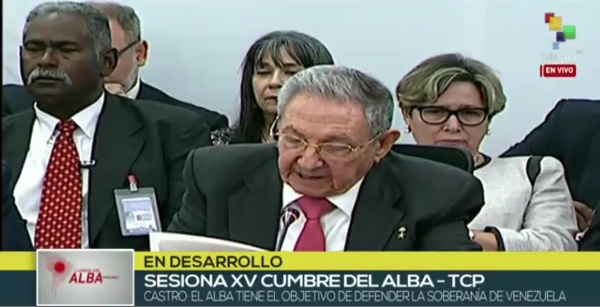 The First Secretary of the National Bureau of the Young Communist League, Sussely Morfa, ratified on Tuesday in Caracas, the need to continue united for Venezuela before US aggression against the South American nation.

Morfa, who is part of the Cuban delegation to the Todos Somos Venezuela (We are all Venezuela) Solidarity Event, expressed the importance in strengthening the fight against imperialism in the region and the neoliberal wave expanding all over the continent with the objective of destroying Latin American unity and integration.

According to Prensa Latina News Agency, the also member of the Cuban Council of State warned that we need to continue promoting the truth and reality of Venezuela in the face of an economic, commercial and financial blockade implemented by the Government of President Donald Trump.

The youth leader praised the growing solidarity among the international community in defense of Venezuelan democracy and sovereignty and expression of extensive admiration for the resistance of the people of Hugo Chavez.

Morga reiterated Cuba's support towards Venezuela under any circumstance which, she said, was ratified by Cuban President Raul Castro in the recent 15th Summit of the Bolivarian Alliance of the Peoples of Our America-People's Trade Treaty (ALBA-TCP) held in Caracas.

Regarding the importance of the ALBA-TCP in the current context, the Cuban youth leader pointed out that the integration entity has the responsibility of supporting Venezuela in its fight to maintain its independence and sovereignty.

She added that the regional group should strengthen unity and integration in order to prevent neoliberal tendencies of the right wing sectors in Latin America through the destruction of left and progressive governments.

Regarding Cuba's presence in the Todos Somos Venezuela Solidarity event, Morfa said that this is an example of confidence and support from the Caribbean island with its sister South American nation.

(ACN)

Radio Rebelde. 23 # 258 % L y M. Vedado. Plaza de la Revolucion Havana City, Cuba CP. 10400. Principal Editor: Pablo Rafael Fuentes de la Torre. Webmaster: Mabel Peña Styo. Journalist: Liannis Mateu Francés - Laura Barrera Jerez.Photojournalist: Sergei Montalvo Arostegui. Comunity Manager: Alejandro Rojas. Assistant: Adriana Glez Bravo. Developed by Radio Rebelde Web Team
General Director: Frank Aguiar Ponce.
Phone numbers: (53) 7 838-4365 al 68 (Cabin) (53) 7 839-2524 (Public Relations).
© Copyright Radio Rebelde, 2015