---
Cuba denounces US attack to its foreign trade at meeting in WTO
2019-10-15 11:37:45 / web@radiorebelde.icrt.cu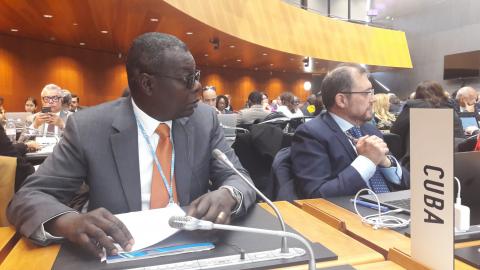 Cuba denounced today at the World Trade Organization (WTO) in Geneva, Switzerland, the US commitment to hinder the Cuban trade relations.
The accusation was made by the Cuban ambassador Pedro Luis Pedroso, at a WTO Heads of Delegations meeting, where he said that last year Donald Trump's administration has significantly increased its commercial and financial blockade measures against the Caribbean country.
It has imposed additional measures to hinder foreign trade and increased the harassment of our bank-financial relations with the rest of the world, he said, according to Prensa Latina.
Pedroso recalled that Washington's aggressiveness is part of the implementation of its economic, commercial and financial blockade, a policy in force for 60 years, which President Donald Trump has strengthened.
This tightening has also implied a more intense and punitive application of extraterritorial measures, such as the full activation of Title III of the illegal 1996 Helms-Burton Act, the Cuban representative warned.
The diplomat reiterated Cuba's position on the need to advance in order to achieve results under the mandate of the Doha Development Agenda and the multilateral approach it advocates.

(ACN)

Radio Rebelde. 23 # 258 % L y M. Vedado. Plaza de la Revolucion Havana City, Cuba CP. 10400. Principal Editor: Alejandro Rojas Espinosa. Webmaster: Mabel Peña Styo. Journalist: Liannis Mateu Francés - Yaicelín Palma TejasPhotojournalist: Sergei Montalvo Arostegui. Assistant: Adriana Glez Bravo. Developed by Radio Rebelde Web Team
General Director: Frank Aguiar Ponce.
Phone numbers: (53) 7 838-4365 al 68 (Cabin) (53) 7 839-2524 (Public Relations).
© Copyright Radio Rebelde, 2015