---
Cuba eliminated in 2019 Premier 12 Baseball Tournament
2019-11-08 13:52:22 / web@radiorebelde.icrt.cu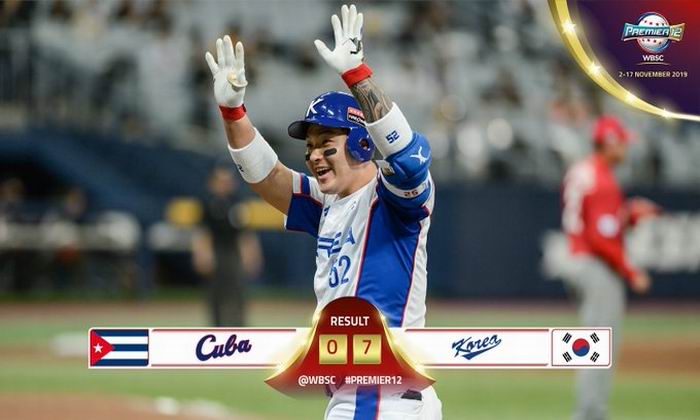 Cuba was unproductive again when falling 0-7 to the favorite host team of South Korea, thus saying goodbye to the 2019 WBSC Premier 12 Baseball Tournament.
In match for Group C played at the Gocheok Sky Dome, in Seoul, the Caribbean side only amounted 7 hits, all singles, against six Korean pitchers.
The win went to reliever Young Ha Lee, who managed to pitch 1.1 scoreless innings allowing only one hit, with two strikeouts; while Cuban starter Yosimar Cousin took the loss when surrendering two earned runs, including two walks, in only one frame.
Cuba´s three relievers, Yariel Rodriguez (3), Yoanni Yera (1) and Freddy Alvarez (1) couldn´t contain the opponent attack and they all allowed runs in the rest of the game.
Cuba ended its participation in this tough contest with a 1-2 balance (3-2 win over Australia, under the Schiller Rule, and defeats against Canada (0-3) and South Korea (0-7), not qualifying to the Super Round and thus without the possibility of getting one of the two tickets the tournament grants to Tokyo 2020 Olympic Games.
United States and Mexico for Group A, Japan and Chinese Taipei (B) and South Korea and Australia (C) will be in the final round which begins next Monday, in Japan.
Boxscore:
1 2 3 4 5 6 7 8 9 R H E
CUB 0 0 0 0 0 0 0 0 0 0 7 1
KOR 0 2 0 0 4 1 0 0 X 7 9 0
W: Young Ha Lee (1-0)
L: Yosimar Cousin (0-1)


(ACN)

Radio Rebelde. 23 # 258 % L y M. Vedado. Plaza de la Revolucion Havana City, Cuba CP. 10400. Principal Editor: Alejandro Rojas Espinosa. Webmaster: Mabel Peña Styo. Journalist: Liannis Mateu Francés - Yaicelín Palma TejasPhotojournalist: Sergei Montalvo Arostegui. Assistant: Adriana Glez Bravo. Developed by Radio Rebelde Web Team
General Director: Frank Aguiar Ponce.
Phone numbers: (53) 7 838-4365 al 68 (Cabin) (53) 7 839-2524 (Public Relations).
© Copyright Radio Rebelde, 2015