---
Cuba guarantees free registration on online educational platform
2020-03-25 15:01:53 / web@radiorebelde.icrt.cu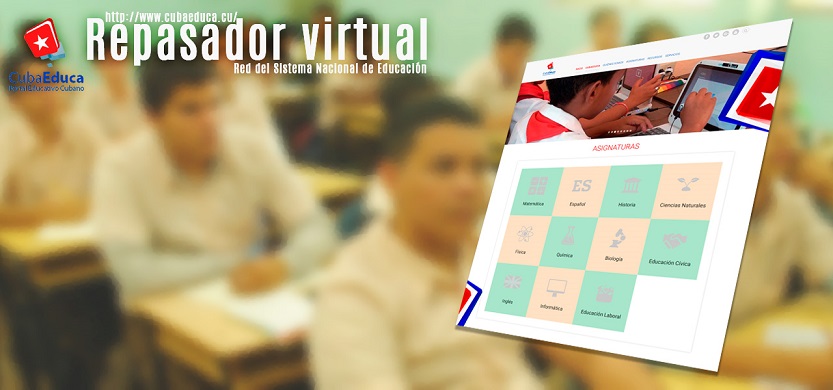 From this Wednesday on, the Informatics and Audiovisual Media Company, Cinesoft, offers users, at no cost, its Virtual Reviewer platform, as a support to the preparation of the Cuban students after the class suspension as a measure to face the COVID-19 spreading.
The entity's communications group explained to the Cuban News Agency that at first this service will be available until June. However, the company's intention is to provide support in the current scenario, so it will be available for free until all teaching activity is resumed.
The online tool, they said, normally has a price of 25 CUP for 30 calendar days, and from it, the user can make all the queries you want about the subjects at hand.
They stressed that the Virtual Reviewer, accessible from 2019, aims to advise teachers, families and students and, depending on the users' level, the virtual teacher focuses the response and guidance.
The tool works as an online forum that helps those interested in curricular issues from elementary to twelfth grade. Questions and doubts are answered within 24 hours by experienced teachers.
Cinesoft, a company created in 2015 and belonging to the Ministry of Education, offers services that include instructional software, audiovisuals, video games, and virtual tours of historical sites, among others.

(ACN)

Radio Rebelde. 23 # 258 % L y M. Vedado. Plaza de la Revolucion Havana City, Cuba CP. 10400. Principal Editor: Alejandro Rojas Espinosa. Webmaster: Mabel Peña Styo. Journalist: Liannis Mateu Francés - Yaicelín Palma TejasPhotojournalist: Sergei Montalvo Arostegui. Assistant: Adriana Glez Bravo. Developed by Radio Rebelde Web Team
General Director: Frank Aguiar Ponce.
Phone numbers: (53) 7 838-4365 al 68 (Cabin) (53) 7 839-2524 (Public Relations).
© Copyright Radio Rebelde, 2015