Cuba keeps seismological monitoring on national territory
2020-01-30 13:14:58 / ACN
---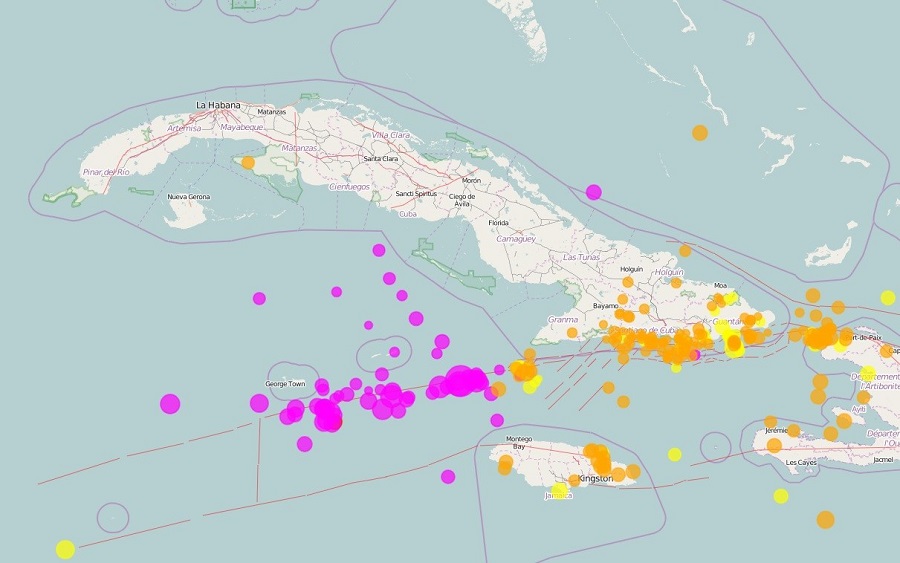 The National Seismological Service, at the National Center for Seismological Research (CENAIS by its Spanish acronym), in Santiago de Cuba (eastern Cuba), is keeping a 24-hour watch in relation to the 7.1-magnitude earthquake on the Richter scale that occurred last Tuesday, some 125 kilometers southwest of Cabo Cruz, in Granma province.
Bladimir Moreno, president of the Scientific Council of the aforementioned center, informed that during the last 26 hours after the event, more than 500 aftershocks have been registered, divided into two different areas of the Oriente Fault, which extends from Cayman Island (through the south of Cuba) to the north of Haiti.
The first of the area located right in the epicenter of the main earthquake reports only 30% of these seismic movements, while the second with 70% appears in the area of Cayman Island, as a result of the activation of another segment of the Oriente Fault, distant more than 200 kilometers from the national territory.
The specialist added that, given the distance from the main center, this greater number of earthquakes cannot be considered aftershocks of the 7.1 earthquake, which has a rupture length of approximately 60 kilometers, and although they have reached 6.1 Richter, they have not been felt due to their distance from Cuba.
Specialists from the CENAIS will begin a tour today of the southeast coast, from Santiago de Cuba to Cabo Cruz, in order to assess in situ any evidence of possible effects on buildings, coasts and the land in general of the effects of the 7.1 earthquake and its aftershocks, Moreno noted.
This monitoring to seismic behavior, as well as the evaluation to be carried out, are determining factors for the information submitted to the authorities throughout the nation, and the information provided to the population, so that both may adopt the measures required in each situation in a timely manner.