---
Cuba loses to Poland in final of Men U21 World Volleyball Championship
2017-07-03 10:46:53 / web@radiorebelde.icrt.cu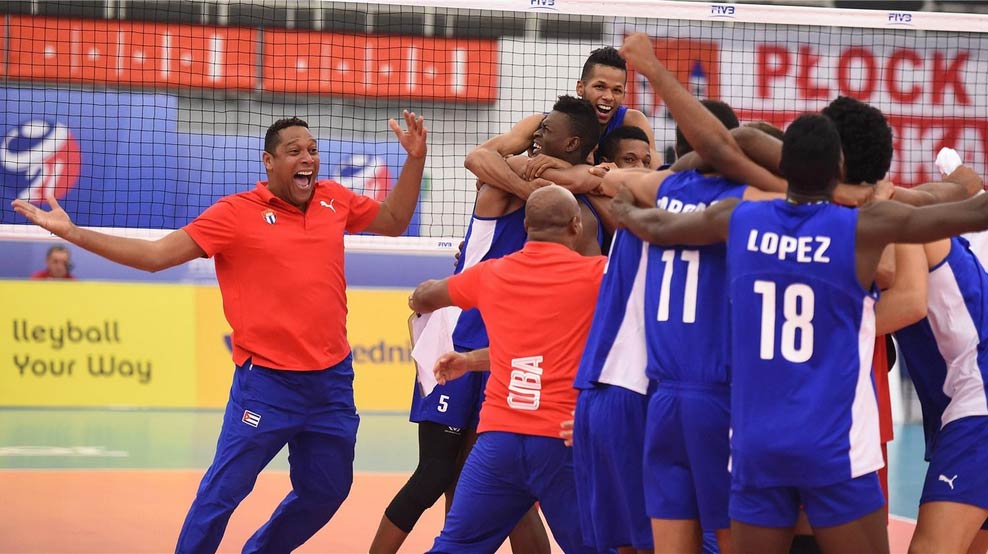 Cuba finished with the silver medal in the 19th Men´s U21 World Volleyball Championship when losing in the final to Poland, in the Czech city of Brno.
According to the website of the contest, Poles won 3-0 (25-20, 25-10 and 25-19), in a match marked by the superiority of the Europeans in all statistics of the game and a poor effectiveness by Caribbean players in attack.
This was Poland´s second win over Cuba, as they won 3-0 (25-17, 25-22 and 25-20) in the second round of the tournament (Group E).
The leading scorer of the match was Cuban Miguel David Gutierrez with 15 points, although he was not properly supported by his teammates as Miguel Lopez and Osniel Melgarejo could only scored 7 and 6 units each.
Meanwhile, Bartosz Kwolek (12), Jakub Ziobrowski (12), Jakub Kochanowski (10) and Tomasz Fornal (10) highlighted for the winning side.
This was an outstanding performance by Cubans if taking into account they finished 13th in the previous edition of this competition (2015).
Russia, beaten by Cuba in semifinals, came to the Czech Republic as defending champion, earned the bronze medal when defeating 3-0 (25-16, 25-16 and 25-9) Brazil.
Fifth seat went to Iran after beating 3-0 China (6th), while Argentina finished 7th by winning 3-2 over Canada (8th).
Italy, Turkey, Ukraine, Egypt, Japan, United States, Czech Republic and Morocco ranked from 9th to 16th seats in that order.





(ACN)

Radio Rebelde. 23 # 258 % L y M. Vedado. Plaza de la Revolucion Havana City, Cuba CP. 10400. Principal Editor: Pablo Rafael Fuentes de la Torre. Webmaster: Mabel Peña Styo. Journalist: Liannis Mateu Francés - Laura Barrera Jerez.Photojournalist: Sergei Montalvo Arostegui. Comunity Manager: Alejandro Rojas. Assistant: Adriana Glez Bravo. Developed by Radio Rebelde Web Team
General Director: Frank Aguiar Ponce.
Phone numbers: (53) 7 838-4365 al 68 (Cabin) (53) 7 839-2524 (Public Relations).
© Copyright Radio Rebelde, 2015