---
Cuba: Ninth as Tourist Destination in The Americas
2010.02.16 - 18:36:49 / web@radiorebelde.icrt.cu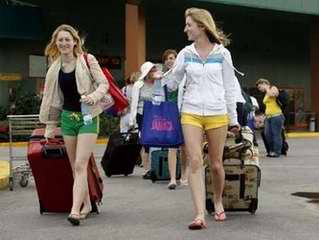 HAVANA, Cuba. - Cuba occupies position number nine as tourist destination in The Americas, underlined Miguel Alejandro Figueras, consultant with the island's Tourism Ministry, on the occasion of the International Underwater Photography Contest.
During the inauguration of the event, underway at the Colony Hotel of the Isle of Youth special municipality, Figueras made reference to the development of tourism in Cuba, which in 1990 was 23rd among places preferred by travellers for their vacation.
He pointed out that the country could place itself in the fourth or fifth position on that list, if the US government allowed its citizens to travel to Cuba freely.
While addressing some 70 photographers, models and journalists from over 10 nations, the expert also highlighted the inclusion of Cuba among the 27 most important tourist destinations in the world for diving, according to the World Tourism Organization.
He added that, for this type of nautical activity, the island has 39 International Diving Centers with 200 instructors and guides, 66 vessels, 1,000 universally acknowledged immersion spots and 10 hyperbaric chambers to guarantee the safety of divers.
With regard to the most recent date on this sector, Figueras stated that over the last two decades the island received 29 millions tourists, half of that figure from Europe, eight million from Canada, 4,000 from Latin America and the Caribbean, and 800,000 from the United States.
Among the nation's tourist areas, he mentioned Havana, Varadero, Jardines del Rey, Camagüey, Holguín, Santiago de Cuba, the south-central coast and the Canarreos (Isle of Youth and Cayo Largo), where 91 per cent of investment, income and amount of tourists is concentrated.
Likewise, the highlighted the country's lodging capacity, where 107 four and five-star hotels operate, which represents 66 per cent of the national hotel capacity and that by the end of 2009 had 50,000 rooms.

(ACN)

Radio Rebelde. 23 # 258 % L y M. Vedado. Plaza de la Revolucion Havana City, Cuba CP. 10400. Principal Editor: Pablo Rafael Fuentes de la Torre. Webmaster: Mabel Peña Styo. Journalist: Liannis Mateu Francés - Laura Barrera Jerez.Photojournalist: Sergei Montalvo Arostegui. Comunity Manager: Alejandro Rojas. Assistant: Adriana Glez Bravo. Developed by Radio Rebelde Web Team
General Director: Frank Aguiar Ponce.
Phone numbers: (53) 7 838-4365 al 68 (Cabin) (53) 7 839-2524 (Public Relations).
© Copyright Radio Rebelde, 2015