---
Cuba presents experiences at World Education Forum in London
2020-01-21 12:11:00 / web@radiorebelde.icrt.cu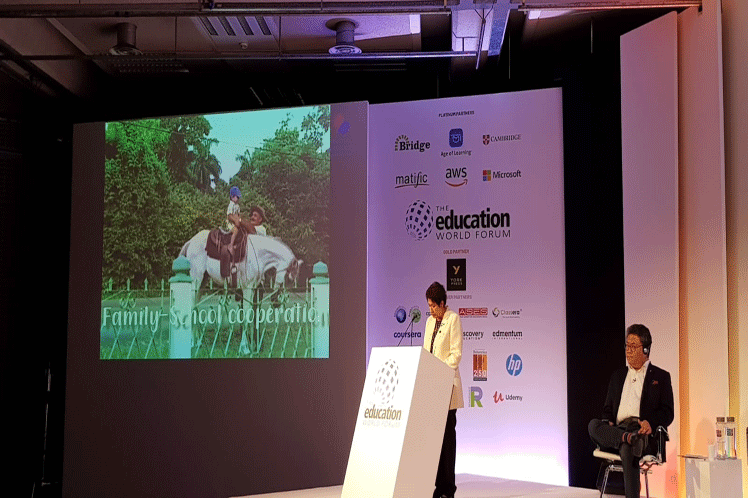 Cuba's experiences in educational improvement and literacy were presented at the World Education Forum in London, UK.
Ena Elsa Velazquez, Cuban minister of education, explained in a workshop shared with her counterparts from Croatia and Pakistan the experience of her country, based on the third upgrading of the national education system.
We talked about everything we do with the family, and how it participates in the creation of institutional curricula adapted to the characteristics of the community and the place where the school is located, she said.
The minister added she also discussed everything related to the work done with government agencies in the formation of a qualified workforce, and the agreements between the ministry of education and other institutions to ensure the employment of polytechnic school graduates.
According to Velazquez, this last topic raised particular interest among the more than 1,200 delegates from 95 countries attending the World Forum hosted by the British foreign ministry, the UK departments of education and international development, and the British Council.
The Cuban minister dedicated another part of her presentation to highlighting her country's achievements in literacy and its contribution to the UN Agenda 2030 for Sustainable Development, whose fourth goal is to guarantee inclusive, equitable and quality education for all.
In recent years, Cuba has taught more than 10 million people in 32 countries to read and write using the Yo Si Puedo ("Yes, I can") method, and Cuba dedicates 24 percent of its annual budget to education, despite the economic limitations and lack of resources that we face, she stressed.
Besides her participation as a speaker at the World Education Forum that will conclude tomorrow in London, Valazquez added that she is taking advantage of the working visit to exchange with her counterparts from other nations, and to review with some of them the bilateral agreements already in place.

(ACN)

Radio Rebelde. 23 # 258 % L y M. Vedado. Plaza de la Revolucion Havana City, Cuba CP. 10400. Principal Editor: Alejandro Rojas Espinosa. Webmaster: Mabel Peña Styo. Journalist: Liannis Mateu Francés - Yaicelín Palma TejasPhotojournalist: Sergei Montalvo Arostegui. Assistant: Adriana Glez Bravo. Developed by Radio Rebelde Web Team
General Director: Frank Aguiar Ponce.
Phone numbers: (53) 7 838-4365 al 68 (Cabin) (53) 7 839-2524 (Public Relations).
© Copyright Radio Rebelde, 2015