---
Cuba reiterates its unwavering support and solidarity with Nicaragua
2018-07-20 10:20:54 / web@radiorebelde.icrt.cu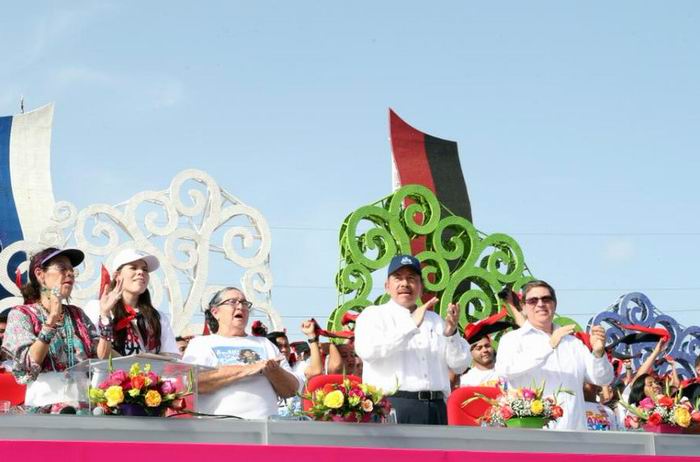 On the occasion of the 39th anniversary of the triumph of the Sandinista Revolution, held on Thursday in Managua, the capital of Nicaragua, Cuban Foreign Minister Bruno Rodríguez Parrilla addressed the Nicaraguan people.

Granma newspaper reports that Rodriguez read a message sent by Raúl Castro Ruz, First Secretary of the Communist Party of Cuba, and Miguel Díaz-Canel, President of the Council of State and of Ministers, through which both showed their unconditional support for the Sandinista National Liberation Front, President Daniel Ortega and his people in the face of imperialist attempts to overthrow their government.

Likewise, Rodríguez read a text -supported by the region's progressive governments during the 24th Sao Paulo Forum, concluded last Wednesday in Havana- that rejects the interventionist policy of the U.S. government. The Cuban Foreign Minister also called for support for the right of each state to choose its political system, as well as for not intervening directly or indirectly in the affairs of other governments and for banishing any form of violence.

He also affirmed that "the Marti and Bolivar followers will never betray the memory of Sandino, we will defend it", and that "those who attack Nicaragua today are the hypocrites, those who use the monopoly of information to maintain corrupt governments and confuse international public opinion". He also emphasized that "the people, not the OAS, not Donald Trump, are in charge in Nicaragua.

(ACN)

Radio Rebelde. 23 # 258 % L y M. Vedado. Plaza de la Revolucion Havana City, Cuba CP. 10400. Principal Editor: Pablo Rafael Fuentes de la Torre. Webmaster: Mabel Peña Styo. Journalist: Liannis Mateu Francés - Laura Barrera Jerez.Photojournalist: Sergei Montalvo Arostegui. Comunity Manager: Alejandro Rojas. Assistant: Adriana Glez Bravo. Developed by Radio Rebelde Web Team
General Director: Frank Aguiar Ponce.
Phone numbers: (53) 7 838-4365 al 68 (Cabin) (53) 7 839-2524 (Public Relations).
© Copyright Radio Rebelde, 2015