---
Cuba reports 30 new cases of COVID-19 thus reaching 350 in total
2020-04-06 15:40:58 / web@radiorebelde.icrt.cu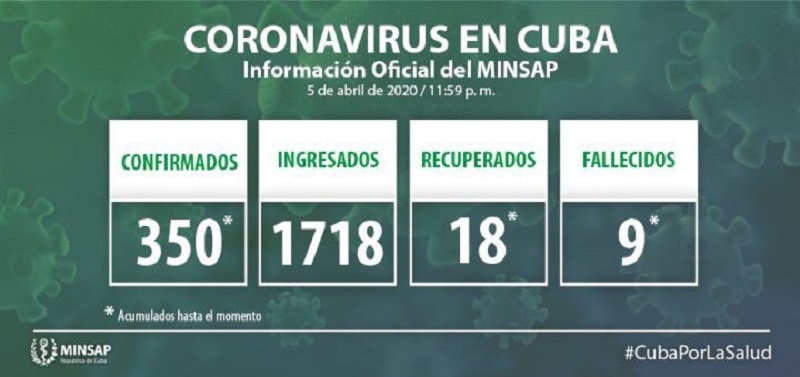 The Cuban Ministry of Public Health reported 30 new positive cases for the SARS CoV-2 coronavirus, which causes COVID-19, for a total amount of 350 in the country, as well as one deceased.
According to the daily report, 309 of the patients diagnosed with the disease present stable clinical evolution, and there are also reported nine deaths, two evacuees and 18 discharges; eight patients are in critical condition and four are seriously ill.
Medical report of April 5 at midnight:

1,718 patients were admitted for clinical-epidemiological surveillance. Another 18,434 people are monitored in their homes from the Primary Health Care.
764 cases were studied yesterday, resulting in 30 positive cases for COVID-19. The country accumulates 5,998 samples carried out and 350 positive.
Yesterday´s 30 confirmed cases were 29 Cubans and a foreigner from Tanzania. Out of the 29 Cubans diagnosed, one has a source of infection abroad (United States), 17 were contacts of confirmed cases, 9 were contacts of travelers from abroad and 2 have unspecified source of infection.
The member of the Henry Reeve Cuban medical brigade that is in Andorra was negative to COVID-19 in two real-time PCR tests, as well as in all the complementary tests that were carried out. He already resumed his work as clinician at the Nostra Señora de Mery Kellt Hospital in the European principality.
As of April 5,179 countries with cases of COVID-19 are reported, with 1.174,652 confirmed cases (+93,294); 64,400 deaths (+ 6,265) and a lethality of 5.88% (+0.22); transmission is reported in 172 countries (96%).
In the Americas region, 356,885 confirmed cases are reported, 30.38% of the total reported cases in the world with 9,812 deaths and a fatality of 2.75%.
Cuban Ministry of Public Health


(ACN)

Radio Rebelde. 23 # 258 % L y M. Vedado. Plaza de la Revolucion Havana City, Cuba CP. 10400. Principal Editor: Alejandro Rojas Espinosa. Webmaster: Mabel Peña Styo. Journalist: Liannis Mateu Francés - Yaicelín Palma TejasPhotojournalist: Sergei Montalvo Arostegui. Assistant: Adriana Glez Bravo. Developed by Radio Rebelde Web Team
General Director: Frank Aguiar Ponce.
Phone numbers: (53) 7 838-4365 al 68 (Cabin) (53) 7 839-2524 (Public Relations).
© Copyright Radio Rebelde, 2015