---
Cuba to expand cooperation with Pacific island states
2019-08-14 11:22:57 / web@radiorebelde.icrt.cu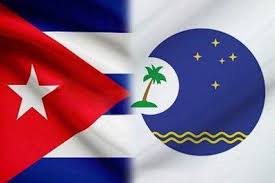 The Cuban delegation participating in the Pacific Islands Forum (PIF) ratified the determination to expand cooperation with these small nations, Cubaminrex website reported from Tuvalu.
The statement was made during the meeting held by Emilio Lozada Garcia, General Director of Bilateral Affairs in the Cuban Foreign Affairs Ministry; with Dame Meg Taylor, PIF General Secretary, in the context of the Cuban participation in this important meeting.
In the cordial exchange, both sides assessed the possibilities to expand cooperation between Cuba and the countries that make up PIF and recognized the progress in the dialogue between the Caribbean nation and the Forum Secretariat, as well as with its member states.
On the other hand, the head of the Caribbean delegation exchanged with the Director General of the World Health Organization (WHO), Dr. Tedros Adhanom Ghebreyesus, who highlighted Cuba´s remarkable contribution to medical care and human resources training in the region.
In addition, Lozada also met Soroi Eoe, Jeremiah Manele and Ralph Regenvanu, foreign ministers of Papua New Guinea, Solomon Islands and Vanuatu, respectively.
They all agreed on the existing opportunities to expand bilateral relations, mainly in matters of common interest, especially in addressing climate change, health, biotechnology and sports.

(ACN)

Radio Rebelde. 23 # 258 % L y M. Vedado. Plaza de la Revolucion Havana City, Cuba CP. 10400. Principal Editor: Alejandro Rojas Espinosa. Webmaster: Mabel Peña Styo. Journalist: Liannis Mateu Francés - Yaicelín Palma TejasPhotojournalist: Sergei Montalvo Arostegui. Assistant: Adriana Glez Bravo. Developed by Radio Rebelde Web Team
General Director: Frank Aguiar Ponce.
Phone numbers: (53) 7 838-4365 al 68 (Cabin) (53) 7 839-2524 (Public Relations).
© Copyright Radio Rebelde, 2015