---
Cuban cooperants will continue working in Venezuela
2017-06-01 09:51:20 / web@radiorebelde.icrt.cu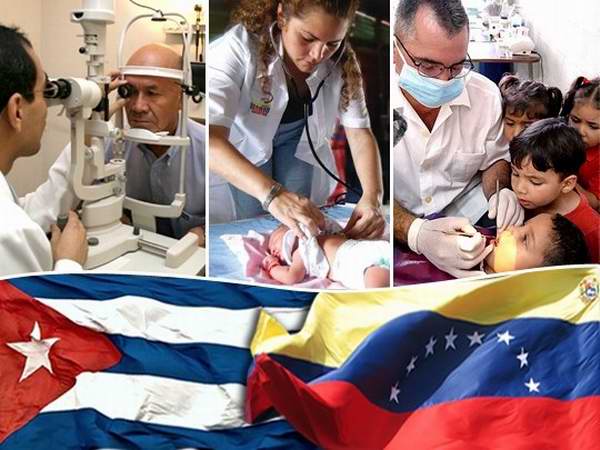 Cuban cooperants in Venezuela continue their work with the Bolivarian people and provide services normally, despite the violent actions of the opposition in that South American nation, said Cuban ambassador Rogelio Polanco Fuentes.

To a question from the Cuban News Agency, Polanco said that there is permanent communication with each of the cooperants of the island, who provide services in all the states of Venezuela, in the fields of health, sport, culture and others.

They are well, together with the people and working in a normal way, fulfilling each of the tasks and responsibilities, he said.

He affirmed that the attitude of the Cuban collaborators in the land of Simon Bolivar is in correspondence with the tradition of the Revolution and the internationalist help of the Island, that at any moment, before any circumstance, has remained solid and in solidarity.

On the destabilizing actions of the opposition, with greater intensity and violence in recent weeks, he emphasized that in Venezuela today the future of Latin America and the Caribbean is being decided, and the consolidation of a revolutionary process that seeks to move forward in the struggle for the well-being of its people.

He said that the Bolivarian Revolution is facing an unconventional war of extraordinary dimensions, with the aim of overthrowing and erasing social transformations.

Rogelio Polanco reaffirmed in his statements to the press the solidarity of Cuba with the Chavez people during the sessions of the extraordinary National Assembly of People's Power that takes place in the Palace of Conventions of the capital.

The island has demonstrated its full support for the Bolivarian Revolution and at these times when it is trying to isolate and attack the Chavistas, Cuba is and will be at the side of that people and the civic-military union headed by President Nicolás Maduro.

(ACN)

Radio Rebelde. 23 # 258 % L y M. Vedado. Plaza de la Revolucion Havana City, Cuba CP. 10400. Principal Editor: Pablo Rafael Fuentes de la Torre. Webmaster: Mabel Peña Styo. Journalist: Liannis Mateu Francés - Laura Barrera Jerez.Photojournalist: Sergei Montalvo Arostegui. Comunity Manager: Alejandro Rojas. Assistant: Adriana Glez Bravo. Developed by Radio Rebelde Web Team
General Director: Frank Aguiar Ponce.
Phone numbers: (53) 7 838-4365 al 68 (Cabin) (53) 7 839-2524 (Public Relations).
© Copyright Radio Rebelde, 2015