Cuban Deputy Prime Minister with intense work program in Russia
2020-09-24 12:29:25 / ACN
---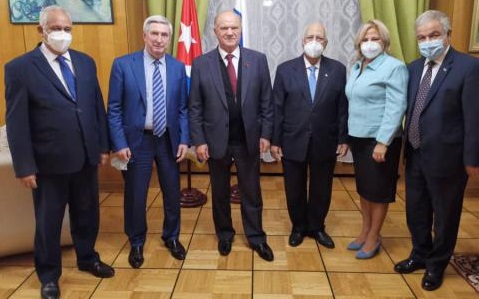 Ricardo Cabrisas, deputy prime minister of Cuba, met with Gennady Zyuganov, chairman of the Communist Party of the Russian Federation (CPRF) Central Committee; and Ivan Melnikov, first vice-chairman of the State Duma, on his second day of work in that nation.
In a cordial and warm meeting, both parties exchanged on the current international economic crisis affecting the whole planet, aggravated by the COVID-19 pandemic.

According to Cuban Ministry of Foreign Affairs, Cabrisas updated them on the complex situation that Cuba is going through, where, in addition to the effects of the pandemic, the unjust economic, commercial and financial blockade of the US is being unprecedently intensified.

Both parts highlighted the solidarity and friendship that unite their peoples and governments, so necessary in these times.

Cabrisas also met with representatives of the International Investment Bank, of which Cuba is a member; as well as with executives of the companies PROM-INGENEERING and INTER RAO, both with projects in execution that contribute to the economic development in the Caribbean island.

The Cuban leader was accompanied by Julio Garmendia, Cuban ambassador to Russia; Ana Teresita Gonzalez, First Deputy Minister of Foreign Trade and Foreign Investment; Emilio Lozada, general director of Bilateral Affairs at MINREX; Isaac Hernandez, director of the Central Bank of Cuba, and other government officials.

Cuba and Russia have held, in the last five years, substantial progress in bilateral ties in all areas, including commercial, scientific-technical, cultural, educational and humanitarian.