---
Cuban doctors have treated thousands of Mozambique hurricane victims
2019-04-16 09:12:28 / web@radiorebelde.icrt.cu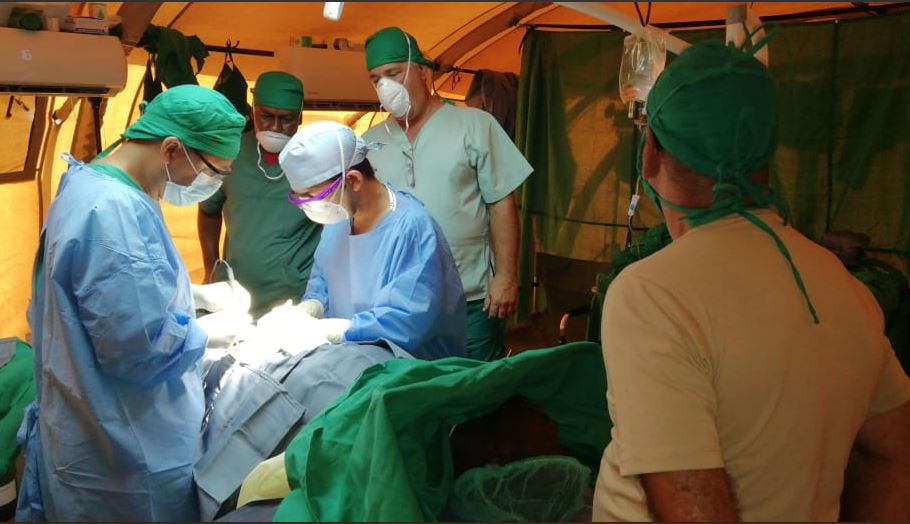 Cuban Foreign Minister Bruno Rodriguez said on Twitter that more than seven thousand patients have been treated in two weeks in the field hospital installed in Mozambique by Cuba, after the strong affectations that the African country had by tropical cyclone Idai.
"An example of the humanism, altruism and solidarity that guides Cuban medical collaboration, in which more than 400,000 health workers have participated in 55 years," said minister Rodriguez in his message.
Cuban President Miguel Díaz-Canel had announced at the end of March that a field hospital would be sent to Mozambique to strengthen medical care in the face of the natural disaster, which began operating on April 1.
From Cuba, we sent personnel, equipment and medicines to strengthen health care, assuming our solidarity and internationalist vocation," wrote the president on Twitter.
On March 14, tropical cyclone Idai hit Mozambique and left more than 500 dead, almost two million victims and extensive damage, in addition to a complex epidemiological situation that could worsen the victims, and just 10 days later Cuba announced the strengthening of aid to that country where more than 300 medical collaborators were already working.
The 28th brigade of the Henry Reeve Contingent, made up of 16 doctors, 22 specialists and two service workers, arrived in the Mozambican capital to provide aid, with a field hospital donated by Cuba that has consultations, an operating room, a clinical and microbiological laboratory, imaging equipment and 20 hospital beds.
Within the new group there are specialists in General Integral Medicine, surgery, internal medicine, pediatrics, gynecology and others of the surgical profile such as surgeons, orthopedics, plus two epidemiologists.
All of them were installed in Beira, the second most important city in Mozambique, and one of the most affected by the unusual cyclone.

(ACN)

Radio Rebelde. 23 # 258 % L y M. Vedado. Plaza de la Revolucion Havana City, Cuba CP. 10400. Principal Editor: Alejandro Rojas Espinosa. Webmaster: Mabel Peña Styo. Journalist: Liannis Mateu Francés - Yaicelín Palma TejasPhotojournalist: Sergei Montalvo Arostegui. Assistant: Adriana Glez Bravo. Developed by Radio Rebelde Web Team
General Director: Frank Aguiar Ponce.
Phone numbers: (53) 7 838-4365 al 68 (Cabin) (53) 7 839-2524 (Public Relations).
© Copyright Radio Rebelde, 2015