---
Cuban First VP checks agriculture in Cienfuegos
2019-01-18 11:11:27 / web@radiorebelde.icrt.cu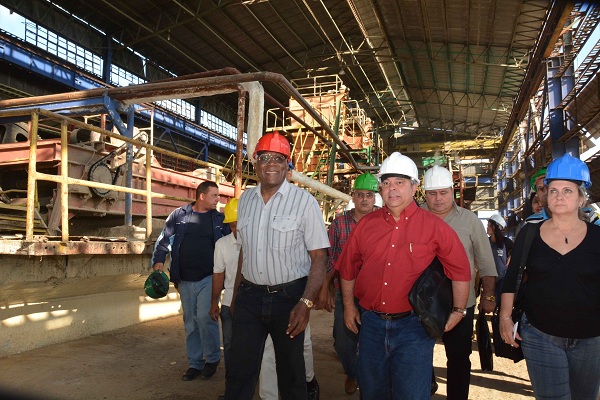 Salvador Valdés Mesa, First Vice-President of the Councils of State and Ministers Planning, checked in the province of Cienfuegos planning, contracts and municipal self-sufficiency in the agricultural sector.

In a meeting with officials of the Ministry of Agriculture during the governmental visit to the territory of Cienfuegos, Valdés Mesa insisted on the role of planning to achieve the productive levels demanded by the population.

For this, he said, it is necessary to reach all levels, even the simple producers, to know what they are going to sow and how much.

He indicated the need to raise the role of municipal delegations and especially of contracting, a way to achieve the real commitment of the volumes of viands, vegetables, grains, milk, meat and fruit required.

Municipal self-sufficiency must be developed with an important movement of training and preparation, said the leader.

Joan Sarduy, delegate of agriculture in the province, reported on the status of hiring for self-sufficiency in 2019, which ensures a growth of 23 percent over last year.

He spoke the levels of beans, milk, tomatoes and bananas, among other lines that will increase their production in these 12 months.

The recovery of 11 markets of the system of Collection, and three new points of sale, as well as weekend fairs in the popular councils are some of the results of the sector in the province.

At this point Gustavo Rodriguez Rollero, Minister of Agriculture, highlighted how in this territory that infrastructure of Collection practically disappeared and now they are recovering it.

It was known that the self-sufficiency plan amounts to 30 pounds per inhabitant, although the real closed in 2018 with 19 pounds per capita of agricultural products to the population of Cienfuegos monthly.


(ACN)

Radio Rebelde. 23 # 258 % L y M. Vedado. Plaza de la Revolucion Havana City, Cuba CP. 10400. Principal Editor: Alejandro Rojas Espinosa. Webmaster: Mabel Peña Styo. Journalist: Liannis Mateu Francés - Yaicelín Palma TejasPhotojournalist: Sergei Montalvo Arostegui. Assistant: Adriana Glez Bravo. Developed by Radio Rebelde Web Team
General Director: Frank Aguiar Ponce.
Phone numbers: (53) 7 838-4365 al 68 (Cabin) (53) 7 839-2524 (Public Relations).
© Copyright Radio Rebelde, 2015