---
Cuban FM in New York for UN high-level debate
2017-09-18 11:30:12 / web@radiorebelde.icrt.cu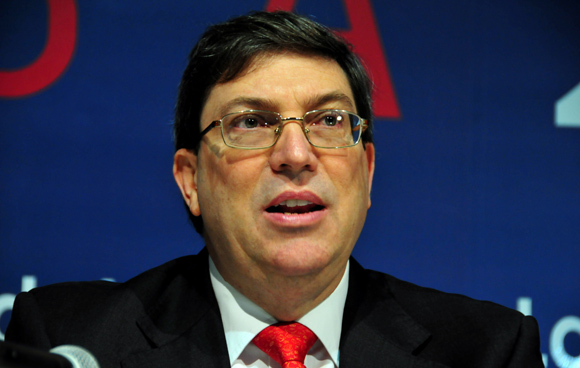 Cuban Foreign Minister Bruno Rodríguez is in New York to participate in the high-level segment of the United Nations General Assembly scheduled for September 19-25, Prensa Latina reported.

Rodríguez is expected to speak at the forum on Thursday and denounce in his speech the continuing economic, commercial and financial blockade imposed by the United States on Cuba for more than 55 years, as well as calling for a new world order marked by justice and equity.

In addition to his address to the main UN deliberative body, which brings the 193 member states of the organization together, the Cuban diplomat must carry out an intense agenda with several meetings and bilateral meetings.

According to the provisional list of speakers, more than 130 heads of State and Government will participate in the high-level debate of the 72nd Session of the General Assembly.

The central theme of the forum this year is the search for peace and a decent life for every inhabitant of the planet, in the context of the implementation of the 2030Sustainable Development Agenda.



(ACN)

Radio Rebelde. 23 # 258 % L y M. Vedado. Plaza de la Revolucion Havana City, Cuba CP. 10400. Principal Editor: Pablo Rafael Fuentes de la Torre. Webmaster: Mabel Peña Styo. Journalist: Liannis Mateu Francés - Laura Barrera Jerez.Photojournalist: Sergei Montalvo Arostegui. Comunity Manager: Alejandro Rojas. Assistant: Adriana Glez Bravo. Developed by Radio Rebelde Web Team
General Director: Frank Aguiar Ponce.
Phone numbers: (53) 7 838-4365 al 68 (Cabin) (53) 7 839-2524 (Public Relations).
© Copyright Radio Rebelde, 2015