---
Cuban FM Pays Homage to the Attack Victims in Barbados
2019-06-17 13:29:29 / web@radiorebelde.icrt.cu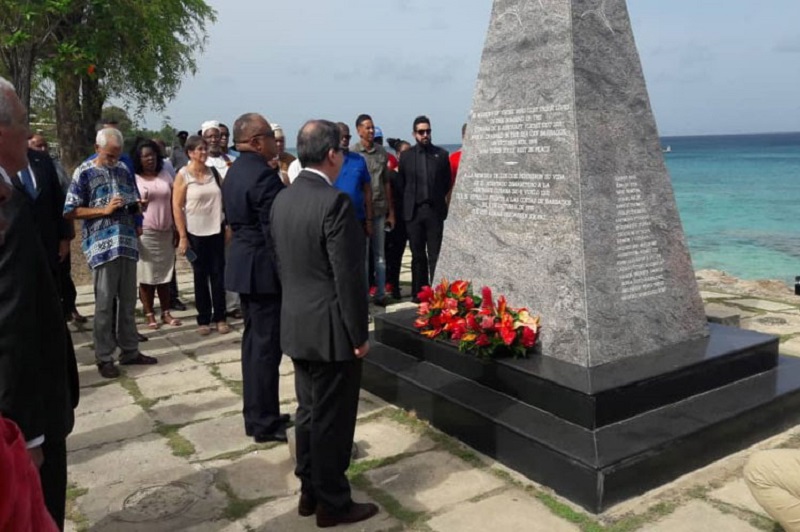 Cuban Foreign Minister Bruno Rodriguez visited on Monday the monument to the Martyrs of Barbados, dedicated to the victims of an attack against a Cuban commercial plane in mid-flight, in which over 70 people perished.

'At the Monument to the Martyrs of Barbados, located in front of the waters in which flight 455 of Cubana de Aviacion fell in 1976, I pay deserved tribute to the victims of such terrorist act, killing 73 innocent people. Barbarism and injustice still hurts #Cuba,' the FM tweeted.

On October 6, 1976, a US terrorist attack blew up Cubana de Aviacion's CU-455 aircraft in mid-flight, which was heading from the island of Barbados to Jamaica, bound for Havana.

The crime was planned in the city of Caracas, Venezuela, by Cuban-born terrorists Luis Posada Carriles and Orlando Bosch Avila. They hired Venezuelans Hernan Ricardo and Freddy Lugo to plant the bombs inside the plane.

On board, there were 73 people, including young Guyanese who wanted to study medicine in Cuba and 10 crew members who had stayed in Bridgetown because of the Cuban airline staff´s rotation.

In addition, there were members of the Cuban Youth Fencing team, both men and women, returning from Venezuela, where they had won all the gold medals in the Central American Fencing Championships.

The Cuban minister paid an official visit to Barbados as part of the Caribbean tour that also took him to Trinidad and Tobago, Saint Lucia and Guyana, where he participated in the 6th CARICOM-Cuba ministerial meeting.

Barbados restored diplomatic relations with Cuba, as well as Trinidad and Tobago, Guyana and Jamaica, in December 1972, a fact that broke the diplomatic isolation that the United States sought to impose on Cuba.

Cuba restates the will to continue strengthening these historical ties, as well as to broaden political dialogue and bilateral cooperation with Barbados, for mutual benefit and in favor of regional integration.

Likewise, he is grateful for Bridgetown's support in the Cuban demand against the US economic, commercial and financial blockade, which has been in force for over half a century against Cuba.

(PL)

Radio Rebelde. 23 # 258 % L y M. Vedado. Plaza de la Revolucion Havana City, Cuba CP. 10400. Principal Editor: Alejandro Rojas Espinosa. Webmaster: Mabel Peña Styo. Journalist: Liannis Mateu Francés - Yaicelín Palma TejasPhotojournalist: Sergei Montalvo Arostegui. Assistant: Adriana Glez Bravo. Developed by Radio Rebelde Web Team
General Director: Frank Aguiar Ponce.
Phone numbers: (53) 7 838-4365 al 68 (Cabin) (53) 7 839-2524 (Public Relations).
© Copyright Radio Rebelde, 2015