---
Cuban Foreign Minister meets with US Secretary of State
2017-09-27 08:52:22 / web@radiorebelde.icrt.cu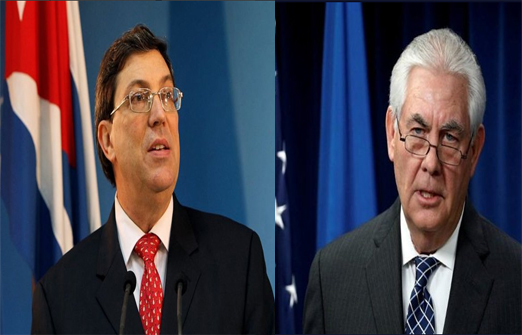 On Tuesday, September 26, 2017, at the proposal of the Cuban side, the Minister of Foreign Affairs of the Republic of Cuba, Bruno Rodríguez Parrilla, was received by Secretary of State Rex Tillerson at the State Department.

The meeting took place in a respectful ambiance.

The Cuban Minister reiterated to Secretary of State Tillerson the condolences on behalf of the Cuban people and government for the damages caused by hurricanes Harvey and Irma in the United States and expressed his gratitude for the sympathies expressed by the State Department to our people for the damages caused by hurricane Irma to Cuba.

The main purpose of the meeting was to address the incidents reported by US diplomats accredited in Havana.

The Cuban Foreign Minister reiterated the seriousness, celerity and professionalism with which the Cuban authorities have taken on this issue. Following instructions from the top level of the Cuban government, a priority investigation was opened as from the moment these incidents were first reported and additional measures were adopted to protect the US diplomats and their relatives. This has been recognized by the representatives of the US specialized agencies who have travelled to Cuba as from June, whose visits have been considered as positive by the Cuban counterparts.

Minister Bruno reiterated to Secretary Tillerson how important it was for the US authorities to cooperate, in an effective way, with the Cuban authorities in order to clarify these incidents, which are unprecedented in Cuba.

He likewise reaffirmed Secretary Tillerson that the decision and the argument claimed by the US Government to withdraw two Cuban diplomats from Washington were unwarranted and emphasized that Cuba strictly abides by its obligations under the Vienna Convention on the protection and integrity of diplomats, an area in which it keeps an impeccable record.

He reaffirmed that the Cuban government has never perpetrated nor will it ever perpetrate attacks of any kind against diplomats. The Cuban government has never permitted nor will it ever permit the use of its territory by third parties for this purpose.

Likewise, he stated that according to the preliminary results obtained by the Cuban authorities in their investigations, which have borne in mind the information given by the US authorities, there is no evidence so far of the cause or the origin of the health disorders reported by the US diplomats.

The Foreign Minister reaffirmed that the investigation to resolve this matter is still in progress and that Cuba has a keen interest in bringing it to closure, for which it is essential to count on the effective cooperation of the US authorities. He also stated that it would be regrettable that a matter of this nature is politicized and that hasty decisions not supported by conclusive evidence and investigation results are taken.

On the other hand, the Minister reiterated the willingness of Cuba to continue holding the bilateral dialogue on areas of common interest, based on respect and sovereign equality, despite the profound differences that exist between the two countries.

(ACN)

Radio Rebelde. 23 # 258 % L y M. Vedado. Plaza de la Revolucion Havana City, Cuba CP. 10400. Principal Editor: Pablo Rafael Fuentes de la Torre. Webmaster: Mabel Peña Styo. Journalist: Liannis Mateu Francés - Laura Barrera Jerez.Photojournalist: Sergei Montalvo Arostegui. Comunity Manager: Alejandro Rojas. Assistant: Adriana Glez Bravo. Developed by Radio Rebelde Web Team
General Director: Frank Aguiar Ponce.
Phone numbers: (53) 7 838-4365 al 68 (Cabin) (53) 7 839-2524 (Public Relations).
© Copyright Radio Rebelde, 2015