---
Cuban Guerrero wins international badminton tournament
2016-03-28 13:51:56 / web@radiorebelde.icrt.cu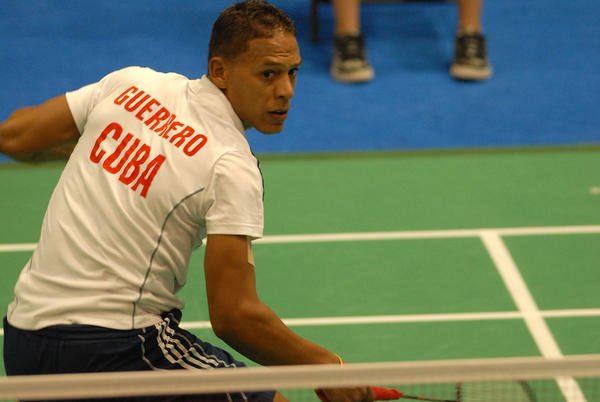 Cuban Osleni Guerrero won his second consecutive title in the Giraldilla de la Habana International Badminton Tournament, which 17th edition ended on Sunday at the Sports City Coliseum.
Guerrero, top seed in the men's individual event, beat 2-0 (21-16 and 21-17) Austrian Luka Wraber (4), result with which he earned 2 500 points for the world ranking.
The Cuban player was very confident with his smashes, which together with his mobility on the court allowed him to reach a very important victory.
For Guerrero, this was his fifth gold medal in the men's individual event of this contest, and took an important step in his aspirations of qualifying for the 2016 Summer Olympics, an increasingly close goal.
On the way to the crown he achieved four wins, the last one was on Saturday when he had to overcome an initial disadvantage to defeat 2-1 (19-21, 21-14 and 21 -14) Chinese Taipei Hsu Jui Ting in semifinals.
Also on Sunday, but in the women's individual final, Austrian Elizabeth Baldauf, seeded first, won 2-0 (21-11 and 21-14) over Peruvian Daniela Macias.
Meanwhile, in the women's doubles event the scepter went to Peruvians Macías and Luz María Zoronoza; and Cubans Ernesto Reyes and Leodannis Martinez won the men's doubles final.
Finally, the Austrian duo made up by Baldauf and David Obernosterer earned the gold medal in the mixed doubles event.



Cubano Osleni Guerrero conquista el título en torneo Giraldilla


(ACN)

Radio Rebelde. 23 # 258 % L y M. Vedado. Plaza de la Revolucion Havana City, Cuba CP. 10400. Principal Editor: Pablo Rafael Fuentes de la Torre. Webmaster: Mabel Peña Styo. Journalist: Liannis Mateu Francés - Laura Barrera Jerez.Photojournalist: Sergei Montalvo Arostegui. Comunity Manager: Alejandro Rojas. Assistant: Adriana Glez Bravo. Developed by Radio Rebelde Web Team
General Director: Frank Aguiar Ponce.
Phone numbers: (53) 7 838-4365 al 68 (Cabin) (53) 7 839-2524 (Public Relations).
© Copyright Radio Rebelde, 2015