Cuban medical brigade opens field hospital in Italy
2020-03-25 15:09:22 / ACN
---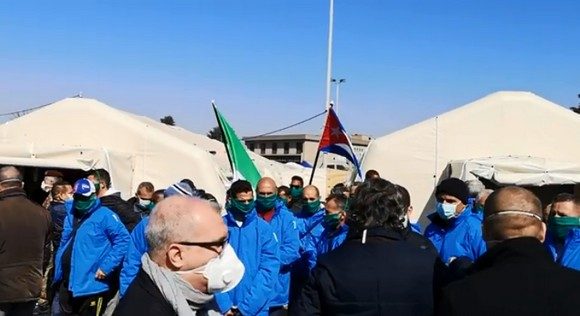 Jose Carlos Rodriguez, Cuban ambassador to Italy, San Marino and Malta, said on Twitter that the Cream Major Hospital campaign area, where the Cuban medical brigade will provide services, was opened on Tuesday.
With the support of Cuban nurses and doctors, the hospital will be able to provide intensive care to the patients of COVID-19, Rodriguez explained.
At the same time, Carlos Ricardo Perez, who is in charge of the Cuban medical brigade, posted a Twitter of the scientific-technical office of the Cuban embassy to that European nation:
Our first impression has been very good, mainly the hospitality received from the people, we have received the human warmth of those who have welcomed us with applause and much gratitude, and we must reciprocate with our solidarity, our humanism.
Meanwhile, the medical brigade sends a message of trust to both people:
'We will all return well, for which we are all taking care of ourselves and our team, Prensa Latina reported.
We assure the Italians we will be firm and for as long as it takes to help fight this epidemic, while thanking them for the hospitality received and the warmth of the people.
The Cuban medical brigade, with 52 collaborators, arrived last Sunday in Italy to help fight COVID-19.