---
Cuban President arrives in Nicaragua to attend Caribbean Summit
2019-03-29 08:02:54 / web@radiorebelde.icrt.cu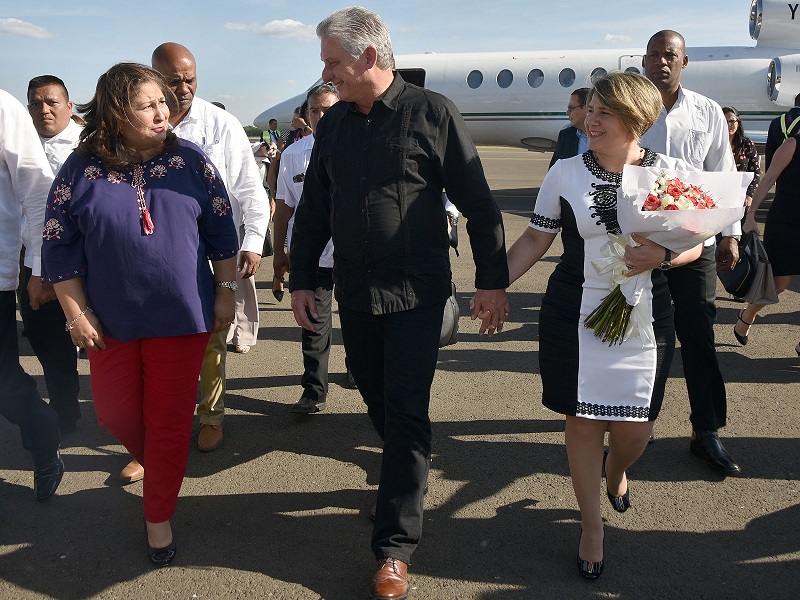 Managua.- Cuban President Miguel Diaz-Canel arrived in Nicaragua today to participate in the 8th Summit of the Association of Caribbean States, which will be held in this capital.

Díaz-Canel was received by the Minister Adviser to the President of Nicaragua for Policies and International Affairs, Sidhartha Marín, and the Minister of Defense of the Central American nation, Martha Ruiz.

The Cuban leader will participate tomorrow in the high-level segment of the meeting, which is being held today under the theme Uniting efforts in the Caribbean to face the consequences of climate change.

The delegation of the Caribbean island is completed by Foreign Minister Bruno Rodriguez, who has been in Nicaragua since yesterday, the Vice Minister of Foreign Trade, Ileana Núñez, the Cuban ambassador to the ACS, Tania Diego, and the diplomatic representative of Havana in Managua. Juan Carlos Hernández

This meeting is held at the Olof Palme Convention Center in this capital, which yesterday hosted the preparatory meeting for the event, which reviewed the topics that will be discussed at the meeting at the level of heads of state and government.

Among other issues to be discussed are those related to tourism, risk reduction, disasters, trade, transport, and protection of the Caribbean Sea.

The 8th Summit of the ACS is also a time to celebrate the 25th anniversary of the organization whose main objective is to serve as a mechanism for consultation, cooperation and concerted action in the fields of trade, transport, sustainable tourism and disasters. natural in the Caribbean area.

The meeting is attended by the 25 member states and the nine associates, as well as representatives of 17 observer countries and six international organizations, including the European Union, the Caribbean Community, and the Central American Integration System.

(PL)

Radio Rebelde. 23 # 258 % L y M. Vedado. Plaza de la Revolucion Havana City, Cuba CP. 10400. Principal Editor: Alejandro Rojas Espinosa. Webmaster: Mabel Peña Styo. Journalist: Liannis Mateu Francés - Yaicelín Palma TejasPhotojournalist: Sergei Montalvo Arostegui. Assistant: Adriana Glez Bravo. Developed by Radio Rebelde Web Team
General Director: Frank Aguiar Ponce.
Phone numbers: (53) 7 838-4365 al 68 (Cabin) (53) 7 839-2524 (Public Relations).
© Copyright Radio Rebelde, 2015