---
Cuban President celebrates freedom of Lula da Silva
2019-11-08 22:32:54 / web@radiorebelde.icrt.cu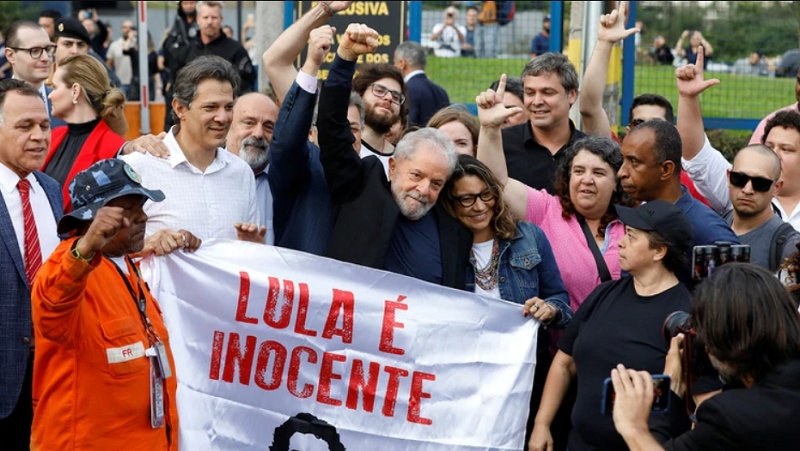 Miguel Diaz-Canel, President of the Republic of Cuba, expressed this Friday on Twitter, that the liberation of former Brazilian President Luiz Inácio Lula da Silva is a triumph of the peoples.
The Cuban leader tweeted that the release from prison of the leader of the Workers Party of Brazil constitutes "the defeat of the imperial strategy and its lackeys. Hugs to the tireless fighter who never lowered the flags of dignity. #We are Cuba.
Likewise, Díaz-Canel said that Lula's release from Curitiba prison this Friday, after 580 days of confinement, is also the victory of "solidarity, of truth. #VivaLula. #We areCuba #We areContinuity".
Lula da Silva had been in prison since April 7, 2018, and was sentenced to eight years and 10 months for his alleged corruption and money laundering in the Lava Jato operation.

(ACN)

Radio Rebelde. 23 # 258 % L y M. Vedado. Plaza de la Revolucion Havana City, Cuba CP. 10400. Principal Editor: Alejandro Rojas Espinosa. Webmaster: Mabel Peña Styo. Journalist: Liannis Mateu Francés - Yaicelín Palma TejasPhotojournalist: Sergei Montalvo Arostegui. Assistant: Adriana Glez Bravo. Developed by Radio Rebelde Web Team
General Director: Frank Aguiar Ponce.
Phone numbers: (53) 7 838-4365 al 68 (Cabin) (53) 7 839-2524 (Public Relations).
© Copyright Radio Rebelde, 2015