---
Cuban President for effective and transparent justice
2020-02-22 15:06:01 / web@radiorebelde.icrt.cu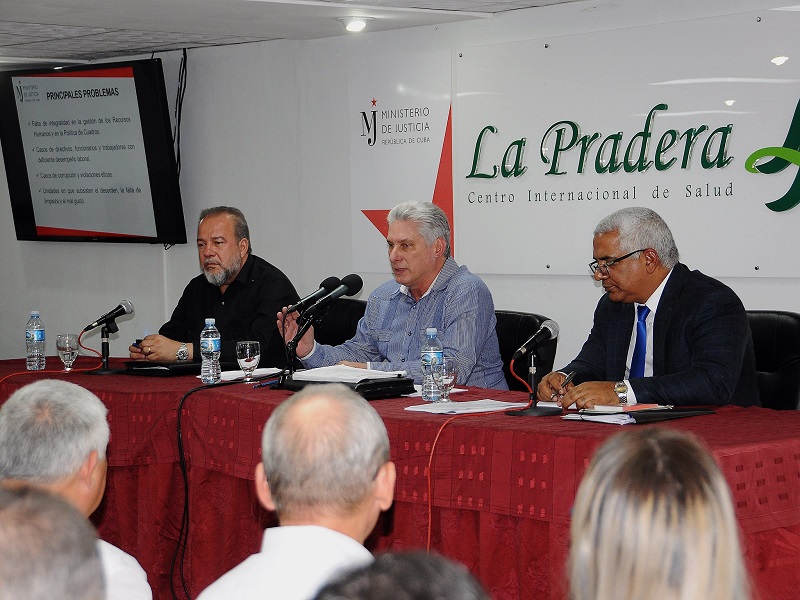 Cuba's President Miguel Diaz-Canel has called to do justice 'in an effective and transparent manner', while addressing a meeting to assess the year's work of the Ministry of Justice.

'We are public servants and it implies we ought to help people,' he said adding that good quality service has to do with the willingness and preparation of the officials. The President criticized those who are arrogant, abuse power and mistreat.

Diaz-Canel stressed the need to continue improving judicial services, cut paperwork and remove hurdles that prolong and make processes difficult. 'We have to make people's life easier and for that it is essential to computerize all the services,' he further said.

About last year's work, the President highlighted the strengthening of a good leading board of directors, which has been pushing ahead all tasks, as well as creating a favorable working environment in which young officials are playing a leading role.

(PL)

Radio Rebelde. 23 # 258 % L y M. Vedado. Plaza de la Revolucion Havana City, Cuba CP. 10400. Principal Editor: Alejandro Rojas Espinosa. Webmaster: Mabel Peña Styo. Journalist: Liannis Mateu Francés - Yaicelín Palma TejasPhotojournalist: Sergei Montalvo Arostegui. Assistant: Adriana Glez Bravo. Developed by Radio Rebelde Web Team
General Director: Frank Aguiar Ponce.
Phone numbers: (53) 7 838-4365 al 68 (Cabin) (53) 7 839-2524 (Public Relations).
© Copyright Radio Rebelde, 2015